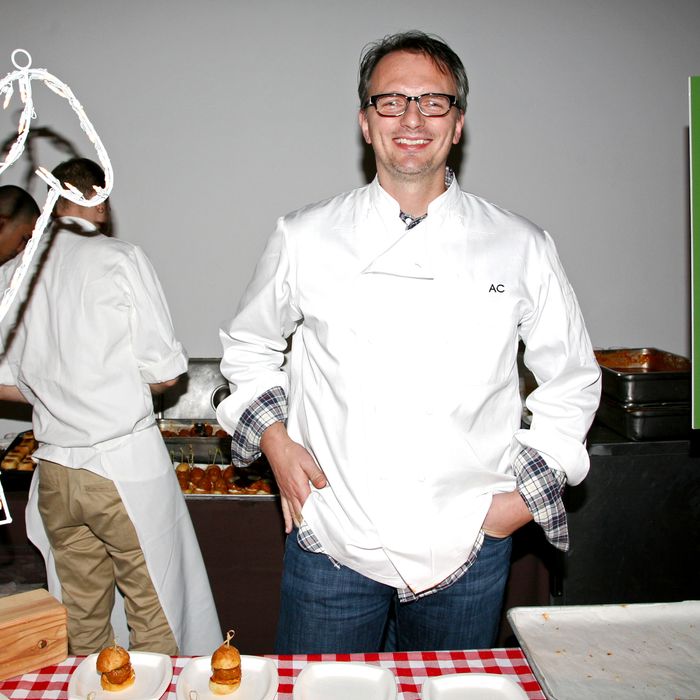 Ready to start spit-roasting.
Photo: Amber De Vos/Patrick McMullan
The Dutch and Locanda Verde chef's next venture, a big French bistro in the former Chinatown Brasserie space, will be called Lafayette, according to Vogue. Carmellini, with partners Josh Pickard and Luke Ostrom, last month explained that in addition to regular seating, the space will house a separate café with takeout, private dining areas, and an in-house bakery turning out loaves of miche. "I am looking at France as a whole," the chef tells Vogue. Blue-leather banquettes will line the dining room when the restaurant opens next month, and meats will be cooked throughout the day at a zinc-covered custom rotisserie.
The place seems set up for ripailles. Lafayette's menu, cooked by the recently appointed chef de cuisine Damon Wise, will steer clear of all things haute and nouvelle, and instead will stick to the regional cooking of "southeast and southwest of France." Carmellini, who opened the Library at the Public Theater earlier this month, says that will include niçoise ravioli, and slow-cooked lamb flavored with olives and burnt oranges.
Overheard: Andrew Carmellini Returns to France with Lafayette, Coming Soon to NoHo [Vogue]
Earlier: Mais Oui: Carmellini's Noho French Project Sails Through CB2 Approval