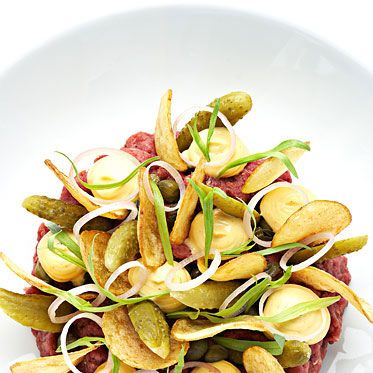 That's a fancy sandwich.
Photo: Courtesy of Aamanns
Even after a year of delays, we had a feeling this would be the season that Aamanns Copenhagen — the Danish smørrebrød specialists setting up shop in Tribeca — finally happened. And now a press release from a rep informs us that the spot will open on November 2. Smørrebrød, for the uninitiated, is a Danish tradition that more or less comes down to open-faced sandwiches. So, what to expect from Aamanns in America: deep malty homemade rye bread topped with all sorts of seasonal meats and fishes and veggies (and herring! Lots of herring!). Oh, and don't forget the homemade aquavit. The very white space will be open seven days a week for breakfast, lunch, and dinner. We'll have more in the next few days, but in the meantime, here's the full release.
AAMANNS-COPENHAGEN, NEW YORK CITY'S ONLY EXCLUSIVELY DANISH RESTAURANT, TO OPEN IN TRIBECA, NYC NOVEMBER 2, 2012
 
NEW YORK CITY—October 25, 2012—A piece of Denmark will arrive in New York City on November 2 with the opening of Aamanns-Copenhagen, the city's only exclusively Danish restaurant located in Manhattan's TriBeCa neighborhood. The restaurant will offer an authentically Danish experience with a culinary focus on smørrebrød, the traditional Danish dish of select ingredients atop a slice of fresh rye bread, as well as year-round cultural events and distinct Danish design.
 
Founded by Sanne Ytting, Aamanns-Copenhagen will operate in partnership with noted Danish chef and restaurateur Adam Aamann.
 
"After two years of careful planning, we could not be more thrilled to open the doors of Aamanns-Copenhagen," said Ytting, a native Dane who moved to New York City from Copenhagen more than 13 years ago. "The combination of our talented team, Adam's incredible food concept, and the Danish companies whose products and designs can be seen throughout the restaurant, New York is in for an exceptional treat on November 2nd."
 
A Taste of Denmark
 
Thanks to numerous international awards and distinctions for Danish restaurants and chefs over the past three years, the interest in Danish cuisine has reached new heights worldwide.
 
Adam Aamann is adding a layer to the conversation with his creation of the restaurant's menu and take away concept. As founder and head chef of Aamanns, a smørrebrød restaurant and take away café in Copenhagen's Østerbro neighborhood, Aamann's food philosophy centers on modernizing the traditional smørrebrød by using healthier, locally sourced, organic ingredients in innovative ways.
 
"When scouring food markets and vendors as we prepared for the opening, I was pleased to find that the meats, seafood, vegetables and herbs central to the Danish diet are abundant in the northeast region of the United States," stated Aamann.
 
Aamann makes his rye bread, the base of smørrebrød, from scratch, incorporating malts to make the flavor deeper, rounder and darker. "Rye is rich in fiber, delicious when done right and I believe massively underrated in the United States," said Aamann.
 
The menu features a seasonal selection of meats including braised pork breast, beef tartare, free range pork pate, chicken salad and roast beef sirloin; as well as seafood such as sugar-salted salmon, pan-fried white fish, fresh peeled shrimp, and herring prepared in three distinct ways.  Each piece of smørrebrød will be dressed with a seasonally rotating variety of vegetables, fruits, herbs, nuts and light, homemade sauces sourced locally and inspired by traditional Danish smørrebrød recipes.
 
Smørrebrød; A Brief History
 
Often mistakenly called an "open-faced sandwich" by diners unable to pronounce the mysterious Danish ø (it's closest to the vowel in "bird" placed at the front of the mouth), smørrebrød, as it is known today, became popular in Copenhagen in the late 1800s. Shortly after, it was seen as a lunchtime staple of the working class and comprised a variety of pickled vegetables and cured meats, which were ideal for long, cold Danish winters.
 
New York diners now have the opportunity to enjoy the most current interpretation of smørrebrød conceptualized by Adam Aamann and introduced to Copenhageners with the opening of Aamann's namesake restaurant in 2006.
 
Early last year, Ytting tapped Aamann to lead the food concept for her first New York restaurant and now smørrebrød has landed stateside.
 
A Home for Danish Traditions in New York City
 
Aamanns-Copenhagen will offer more than classic Danish food; it will serve as a meeting point for Danish culture in Manhattan, becoming the home of Danish design, music and art. Annual meals and celebrations such as julefrokost or "Christmas lunch" will accompany special events including performances by Danish artists and talks with Danish filmmakers among others.
 
"Denmark is a country rich with history and tradition that I know New Yorkers will appreciate and embrace," said Ytting. "Conversely, the restaurant will also serve as a place for Danes and other Scandinavians living in New York City to gather and connect."
 
About Aamanns-Copenhagen

Aamanns-Copenhagen is housed in a 2,000-square-foot space at 13 Laight Street in Manhattan's TriBeCa neighborhood. The restaurant seats nearly 50 guests, and will be open seven days a week for breakfast, lunch and dinner. The menu is aesthetic, healthy, creative, sophisticated, carefully conceptualized and 100 percent authentically Danish.  It includes a light breakfast; a varying selection of smørrebrød; daily homemade organic breads, cheeses served the Danish way with butter-fried rye bread; pastries and desserts; chocolates; coffees; teas; beer and wine from Denmark and abroad; and Aamann's popular handcrafted aquavit. Aamanns-Copenhagen is available for on-premise and off-premise events and catering.