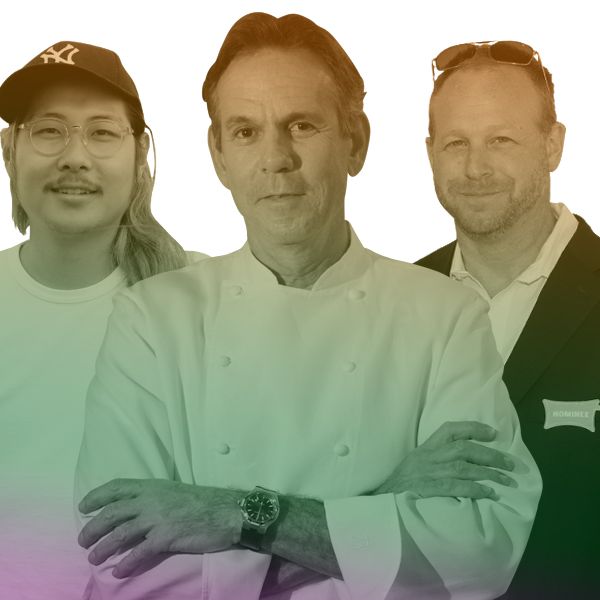 Chefs who have found success: Thomas Keller, Andy Ricker, and Danny Bowien.
Photo: Bowien: Melissa Hom, Keller: Andrew Barris, Ricker: Patrick McMullan
A glance at some of the city's most popular new restaurants reveals a surprising common thread: Chefs from other cities opened them. Historically, New York diners have been hostile to out-of-town talent, and the city's bureaucracy and inflated expenses don't make things any easier. So why do already successful chefs even bother? Glory is the first reason that comes to mind, but it's not the whole story. Opening a buzzy restaurant in New York can be a fast track to making money — not just here, but everywhere else.
First, the obvious: New York is one of the most difficult and expensive places in the country to open a business. "Building a restaurant in New York, with the health department, the energy department, the city — it's extremely difficult," says Matthew Lightner, who left Portland, Oregon's successful Castagna to open Atera in Tribeca. "You can't tell people that unless they've experienced it themselves."
Another Portland transplant, Andy Ricker, says it cost him hundreds of thousands of dollars to open Pok Pok Ny in an all-but-deserted stretch of Brooklyn earlier this year — the same amount he spent over several years building and expanding his Oregon location. "We got a hell of a lot more for our money in Portland," Ricker says. Add to that the cost and hassle of things like liquor-license renewals ($500 in Portland; $5,000 in application fees and another $5,000 for a lawyer in New York) and staffing woes, and the hours spent working mount along with the bills (Ricker: "The No. 1 hardest thing [in New York] is getting and keeping good cooks … Maybe it's just that culinary school, these days, produces cooks that are pussies").
Sure, chefs' egos are as big as anyone's, but the idea that success in New York means a unique degree of glory and fame comes with a caveat, especially for those who've previously been successful elsewhere: Failure in New York can seriously damage a chef's reputation (Look at Tim Love or Govind Armstrong, chefs who earned accolades in Texas and L.A., respectively, but left New York, apparently for good, after opening restaurants to dismal reviews). Yet the financial rewards outweigh the risks because success in New York means the potential for success pretty much everywhere else.
"If you knock it out of the park [in New York], you have opportunity in other cities," says Michael Symon, the Cleveland chef and Food Network mainstay who opened New York's now-closed Parea. "And," he adds, "the only place where checks are higher than Manhattan is Vegas."
The math is simple: If you can successfully run several locations at once, you can scale that model while living wherever you want. In other words, once you have two restaurants that can run without you there, you can pretty easily have six or seven.
Homegrown New York talent like Tom Colicchio, Scott Conant, Mario Batali, and Bobby Flay have made careers out of this, but they aren't the only ones who have used New York as a springboard to other opportunities. Ask Nobu Matsuhisa, the L.A. transplant who was so successful in New York that he opened a Nobu in every other conceivable corner of the world and is now planning to open the first-ever Nobu Hotel in Las Vegas later this year. Masa Takayama is another chef who abandoned his sushi restaurant in Los Angeles to open in New York and Las Vegas. In 2004, Thomas Keller opened Bouchon in Las Vegas and Per Se in New York a mere month apart (Bouchon in January, Per Se in February). And Ricker and Lightner are proof that, increasingly, New Yorkers will wait in their own backyard for an out-of-towner's cooking.
Granted, opening in New York isn't a prerequisite for creating profitable restaurants in hotels and casinos — example A is José Andrés, though rumors persist that his first New York venture will open soon — but it is a surefire way to increase credibility and entice investors. "It seemed crazy to bring pizza to New York," says Michael McConnell, who brought his successful, Seattle-based pizza shop Via Tribunali to the Lower East Side. Soon after opening last March, Via Tribunali was the No. 1 New York pizzeria on Yelp, of all places. Soon, McConnell says, offers to invest were coming in unsolicited. "For being a newcomer, it's surprising that we've had so many investor people approach us," he says, noting that rarely happened out west, where he's much better known and has run Via Tribunali since 2004.
And though Vegas is the big opportunity, it's hardly the only option: David Chang is on the cusp of opening four new restaurants in Toronto and operates another one in Sydney; Michael White has a restaurant in Hong Kong; Andrew Carmellini opened the Dutch in Miami seven months after opening the New York branch; Eric Ripert has his name on restaurants in Washington, D.C., and Grand Cayman; and Danny Bowien — already a bona fide New York success a mere three months after Mission Chinese Food's NYC debut — reportedly plans on opening Missions in Atlanta and his native Oklahoma City, too.
Yet, despite the international sprawl, coming to New York is compelling for one more big reason, too — its diners. We're the most fun city in the world to cook for. We order a gut-busting amount of food. Lots of us start eating dinner at 10 p.m. We happily try new, strange foods. We spend money. And we drink a lot more than any other city (not having to drive home helps). So while a New York restaurant might be a means to some larger end in a financial sense, there's still no doubt that it's the best restaurant city in the world — for eaters, but even more so for the chefs who choose to accept the challenges. As Bowien told the San Francisco Chronicle earlier this year, "this'll piss people off in San Francisco, but if you can make it in New York, it's a big deal."