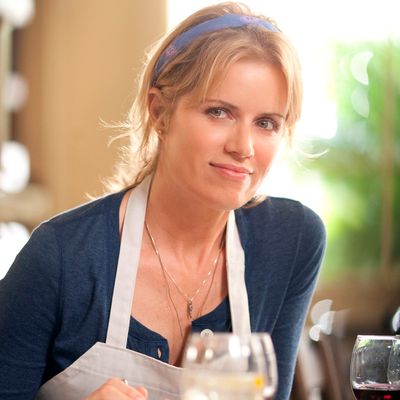 The show's resident chef.
Photo: Paul Schiraldi/HBO
In case you haven't heard, or noticed the ads on this site, Treme's third season starts this Sunday. And even though David Simon's show is focused on New Orleans, one character in particular — Kim Dickens's Janet — spends quite a bit of time hanging out with New York chefs and working in their kitchens. The interesting part, as far as Grub Street is concerned, is that the chefs play themselves. And HBO just sent along the list of who will be appearing this year. (We'll put this info in the "moderately spoiler-ish" category, since there's still no actual context for how these people will be popping up.)
First, some Treme vets: Tom Colicchio, Wylie Dufresne, Eric Ripert, and David Chang will all be appearing yet again.
As for the new faces, look for Barbuto's Jonathan Waxman, Gotham Bar and Grill's Alfred Portale (who hinted at his cameo the other week). In fact, a new clip on Eater reveals all the New York chefs will appear together.
There's also one name we really didn't see coming, Emeril Lagasse. Does this mean Janet's character is destined for a career in food television? It would certainly be a, uh, interesting development.
Earlier: Behind the Scenes at Eric Ripert's Latest Treme Shoot