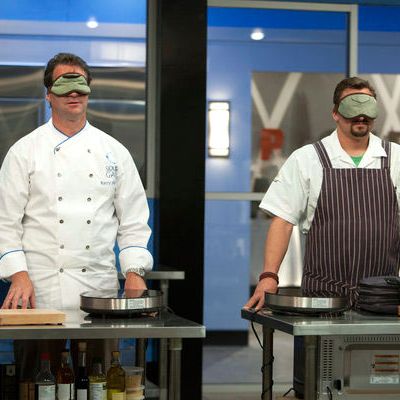 Yeah, it's about time to wrap this season up.
Photo: Isabella Vosmikova/Bravo
Well, well, well, look at Top Chef Masters shaking things up in preparation for the season finale. While past seasons have pitted three cheftestants against each other in the final battle, next week we'll only see two of them facing off. While I'd like to be generous and say this decision was made to spare someone humiliation or make the competition feel more intense, the likely reality is that they needed to fill the ten-episode commitment that was threatened by Missy Robbins's hand-cutting action, or they're just taking a page from normal Top Chef. Either way: Someone got kicked off last night, and chances are you're pretty happy about it!
Chris, Lorena, and Kerry tiptoe into the kitchen only to be confronted with "one of our favorite Quickfires": cooking with a mystery person on the other side of a wall and trying to make them cook the same dish using only words! There's a flashback to Naomi yelling at her dad during the same Quickfire last season, so we're reminded that this may not go so well. Ruth, James, and Francis are the mystery cooks, and they speak in half-assed accents like Berlin Hausfrau, Southern Belle, and Butch Dude, dropping them approximately every five seconds. Ruth makes a better version of Kerry's dish than Kerry (even if it looks like a microwaved Trader Joe's meal); Lorena goes too fast for Francis but somehow doesn't have time to cook pasta and just puts sauce in a bowl; and Chris/James win for being the only pair smart enough to do more than sauté chicken.
The main challenge is amazing and hilarious because the chefs aren't allowed to cook the dishes they will be judged on. Instead, they have to help high school culinary students reinvent a dish and teach them how to make it using only words. If I had to rank the chefs on how well they handled this surprise development, I'd say: Chris, who likes working with kids; Kerry, who's pissy and but at least pretends to like them; and then Lorena, who needs to report to the wine room for heavy sedation immediately. (She'll go on to say "This is my FAVORITE challenge!" with her nostrils flaring and teeth grinding together at least ten times.)
After the kids show off their novice skills (chicken Florentine made with string cheese, apple slices next to some pork), they plan the revamped dishes and see three very different approaches to the challenge. Chris is patient and educational, Kerry doesn't want to take time to explain technique, and Lorena constantly blames the kids' nerves for her own feelings of inadequacy. The real problem is she's talking so fast that they can't understand her, plus she's being fake-nice and scary-smiley. On the way to the grocery store, she tells them, "Money will come if you're passionate about what you're doing." Did these kids sign up for Lorena Garcia's Ten Steps to Financial Success and Schilling for Taco Bell? No, they just want to cook something nice.
At Whole Foods, Chris is nice, Kerry is bossy, and Lorena is frantic, and these are the modes they stay in for the rest of the episode. Once the food is ready, the judges sit down with the kids' principal, teachers, and family members, which makes for some feel-good moments I don't care to revisit. This is the menu: Chris's baby chefs made pork loin in a stunning brown butter sauce, Lorena's poor kids made lasagna in a skillet with a side salad, and Kerry's overworked slaves made a nice-looking chicken dish that he says he would serve in his restaurant. Someone actually says, "Whatever the results, they're all winners" and there are claps and hugs and a weird, pared-down guitar version of the already completely awful Top Chef Masters theme.
Somehow Kerry wins, and so Kerry is in the finale. He was mean and his dish looked boring, but let him win. I no longer care. Ruth says it was a "very moving meal," but it wasn't. When it comes to deciding the fate of the other two, things turn nasty at the judges' table. James is being a sourpuss about the soggy salad in Chris's dish (the kids plated it five minutes too soon), and Ruth is dissing Lorena by calling it "very nice home cooking." They threaten each other with mentions of exorcists, which is fair because Ruth has some wacked-out lookers in her sockets, and James liked Lorena's dish better than Chris's, so both of them are unwell. Somehow this becomes a debate over salad because Lorena's wasn't soggy and Francis has to verbally slap James with the truth about how Chris's salad was great and he needs to get over his lasagna fetish.
All of this nonsense suggests there was no real debate and that the show had to create drama over the smallest things like the difference between "too simple" and "too simple but showing us something." But for a moment I actually got really freaked out because I started to envision Lorena's win, which would retroactively turn this entire season into one long con and then she might win the whole thing and open some terrible restaurant with Art next to Guy Fieri's new nightmare destination in Times Square and we'd all to have to sue Bravo for making life worse than it already is. Fortunately, those fears passed because the other judges put James in the corner and booted Lorena out of there! Oh, happy day! The finale's going to be kind of boring because, come on, Chris versus Kerry, but let's just be happy this is almost over.
Next week: Cooking with Curtis! Hotel balconies! Copious drinking! Too much testosterone! "Embarrassingly bad" cooking! A new Master!