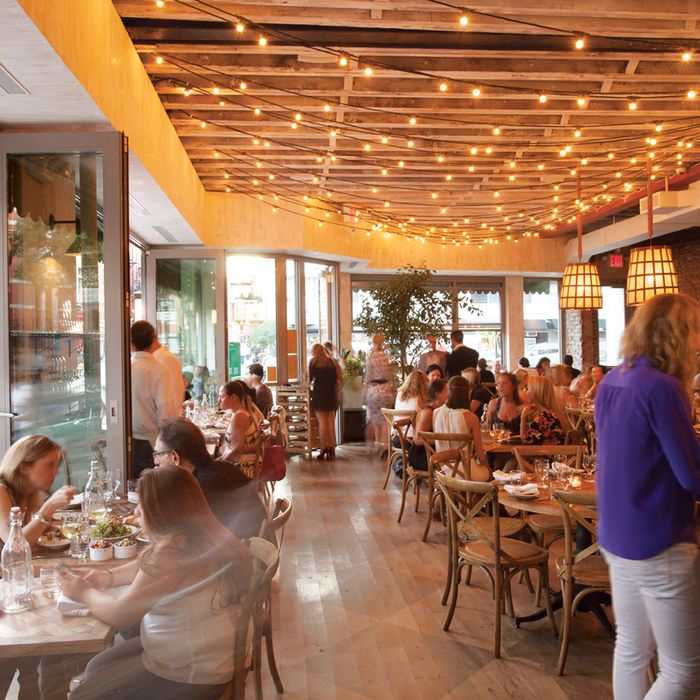 Rosemary's.
Photo: Victor Prado/New York Magazine
Our own Adam Platt tried an array of rustico Italian cuisine, including testa, at Rosemary's this week. So, what did his restaurant-critic peers get up to? Read all about it straight ahead.

Critics have long let the glum décor overshadow the dependable cuisine at Nougatine, argues Pete Wells. No more excuses, he says, since April's total renovation enlivened the space. He recommends the tuna tartare and lauds the simplicity of the watermelon and goat cheese salad and awards two stars.
Tejal Rao wades into the UES singles fray at the Penrose and learns that pub fare, however "cleaned-up," is best when you've been drinking. The pickles, chicken, and oysters come fried, and she learns that if you stay late enough, your nerves just might end up that way, too.
Four out of five stars for Do or Dine, the Bed-Stuy eatery of Food Network star Justin Warner, says Stan Sagner. Small plates carry the day: the squid comes with a finger-licking gochujang and Chinese black vinegar sauce, and the foie gras doughnut silences Sagner's skepticism.
Brush up on the geography and regional cuisine of the Indian subcontinent with Robert Sietsema, who heads to Deccan Spice, a plain restaurant in Jersey City serving traditional and fusion food from the Hyderabad region. Sietsema notes the abundance of goat (including organs) but suggests the natu kodi ("country chicken") biryani, served only on weekends.
And speaking of spice, "Tables for Two" takes on Yunnan Kitchen, finding it "just a few degrees west of authentic Chinese cuisine." Some dishes "don't surpass" the simplicity of their tapas-style presentation, including "not particularly exciting" lamb meatballs on skewers. But others "exceed expectations"; mushrooms and gingko nuts manages to evoke pasta, and shrimp with fried lime leaves "taste, in the best possible way, like Fruit Loops."