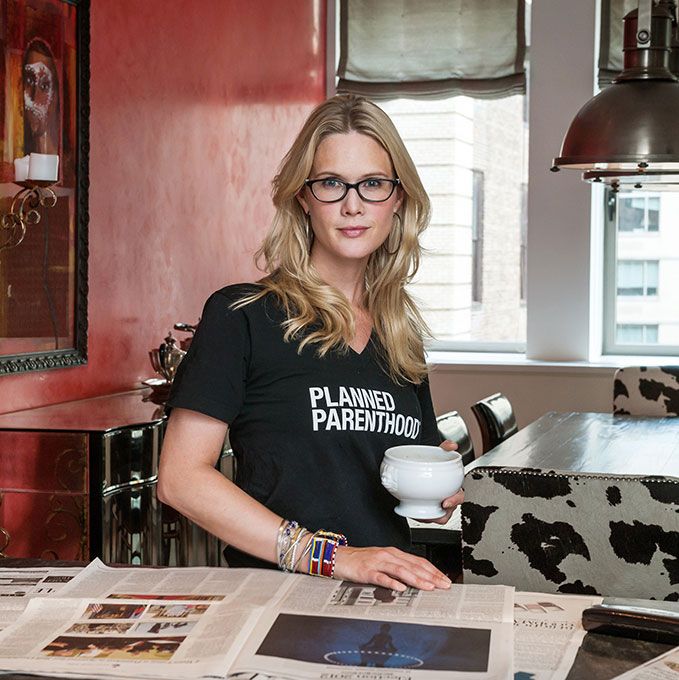 "If Bobby is the chef, I am the restaurant, meaning: I RUN this joint."
Photo: Noah Fecks
Stephanie March stars on Law & Order: SVU, as well as the upcoming Made in Jersey TV show and Innocence film. She's also a contributing editor at Fathom. But she might be most famous (at least in our circles) for being Bobby Flay's beautiful wife. "Bobby cooks for us — he likes when I try, but honestly, when he's not around, there's nothing homemade." Though she can't resist salty foods, March insists, "My diet philosophy is this: Don't eat crap." Adding, "I haven't been to a fast-food restaurant in ages; I'd rather have a bag of carrots, a cigarette, and a glass of wine — at least I know what's in all that." Read all about Stephanie's Dirty Bird chicken thigh and dozens of house guests, including Giada De Laurentiis and Michael Symon, in this week's New York Diet.
Friday, August 31
This is our last weekend in Amagansett after about a month away. My sister, Charlotte March, bro-in-law, sis's best friend, my dear friends from college, their 19-month-old baby, and Bobby's work buddy and his wife are all arriving. Bobby and stepdaughter are polishing off the last of the hummus, but I don't like to eat when I'm rushing around. I'd rather power through, then sit and enjoy.
What to serve, what to serve? BF settles on orrechiette with tomato and herbs and local mozzarella and a soft-shell crab/wild striped bass grill.
Friends show up with 24 of the largest, densest cookies from Levain. I put them on giant cake stands; they're savaged right away. Northwestern friends arrive with tomatoes, bread, and jam from a farm stand. I make a mint iced tea, and we sit down under the pergola outside for a leisurely, late-summer supper. It's lovely and wine-soaked.
For whatever reason, wine turns to prosecco and bourbon. I am pretty sure the phrase is not "Bourbon after midnight, everything's all right." The March sisters have pretty good bounce. I don't cut myself off. Oh dear. Here we go …
Saturday, September 1
I loathe morning, and everyone knows it. When I have guests, I set out breakfast fixings the night before. I always put out granola, berries, butter, jam, a toaster, and preset the coffee maker.
When I emerge, I drink four shots of espresso with milk and spend a half-hour collecting the glassware from the night before. Because BF is preparing a huge luncheon for 25 people, on Sunday we have decided to limit the amount of cooking he does today. We privately wonder how anyone who is not a professional chef is able to host guests for a weekend.
Make-your-own sandwiches and chips for lunch. I smear stone-ground mustard and Hellman's all over a baguette and add ham, Swiss, avocado, and tomato. I eat all the chips. Nothin' like Lays. I can walk by those cookies 400 times and not take a nibble, but no savory snack is safe with me. None.
Group dinner at Bostwick's Chowder House in Amagansett. We are regulars, and they know how much we love it, so no one is nervous around Bobby. Steamers, fish tacos, lobster rolls, fried calamari, and a few negronis later, and we're in good shape. I manage to resist the soft-serve with sprinkles — Bobby's weakness — while eating my stepdaughter's fries. All of them.
Sunday, September 2
A proper pool party — because, for whatever insane reason, we decide we have not entertained enough this summer. I am running around, so I skip breakfast altogether. I mean, I'd NEVER skip coffee.
At noon, guests trickle in. We serve my sister's deviled eggs and Firecracker punch: rosé, gin, cherries, lemon. BF has been up since seven hot-smoking an enormous, wild, line-caught salmon and six racks of St. Louis ribs. The menu today consists of: wild-salmon salad with white peaches, ribs, heirloom-tomato-and-avocado salad, and sixteen spice-grilled chicken thighs and legs. Sublime. There is wine, beer, rosé, punch, and San Pellegrino. Giada, bless her, brings dessert — a tasty array of cookies she has baked with her 4-year-old daughter. BF sneaks off to consume a carton of ice cream.
After this sun-blasted, rosé day, Bobby is totally out, many of our guests have departed, and old college buddies emerge in the evening to make a pasta with the leftover sauce. I have never been more grateful for someone else to cook. If Bobby is the chef, I am the restaurant, meaning: I RUN this joint.
Totally spent.
Monday, September 3
I wake up in a post-hostess fog and drink two very strong espresso drinks. That plus two handfuls of Swedish Fish, fully aware that I'll crash a second after.
Cut to 3 p.m., whereupon I realize I am famished. Starving. I am on my own as Bobby has left for work, and the next round of guests do not arrive until early evening. Three words: Stacy's Pita Chips. Problem solved.
We have guests coming and I'm a big believer in a welcome meal but don't really know what to do. Dear friends Liz and Michael Symon — the nicest, nicest people, like family to us — let themselves in. I am a little flummoxed, and recipes on the fly are not my strong suit. Fortunately, Michael makes fabulous pasta with tomato and capers. Welcome to my house. Make me dinner.
Tuesday, September 4
Time to head back to NYC. Good-bye, giant kitchen full of mysterious heating apparatus. Hello, takeout and easy eggs for one. Bobby goes full-force into work mode, which means no more home-cooked meals.
Bobby hightails it to a miserable day at the office of a busted phone, busted computer, and lost keys. Then the strangest thing happened: I got nesty. I decide, for the first time in weeks, to cook dinner. Pork marinated in mustard, ginger, and soy with Bobby's corn salad and beans that (okay, okay) came out of can. I add super-hot Ro-Tel, avocado, and crème fraîche to juice it up. I also take out the recycling so Bobby won't tease me about the Ro-Tel.
Projection for the week? Pongsri takeout.
Wednesday, September 5
Coffee, coffee, and yogurt with raspberries and pepitas.
Long stretch of running errands takes me to 4 p.m., whereupon I tear into the leftover beans and corn. I manage to avoid opening the pita chips, but do sneak a square of dark chocolate.
By 6:30 p.m., I am headed to a storefront opening for Dirty Bird Tribeca to meet a dear friend. I knock back a glass of Sauvignon Blanc and a tasty fried chicken thigh, which is a lovely start to the moveable feast that is NYC at night. We end up at the Odeon. We have four months to catch up on, and this can only be done over a hanger steak, medium rare. I make sure to ask our server to leave the fries off the order. Off!
Tomorrow night, I am headed to the theater, the new Sam Shepard play, and Bobby is working. This can only mean one thing: a regular slice from Bella Napoli with hot sauce, consumed while walking to the train. It's good to be back.