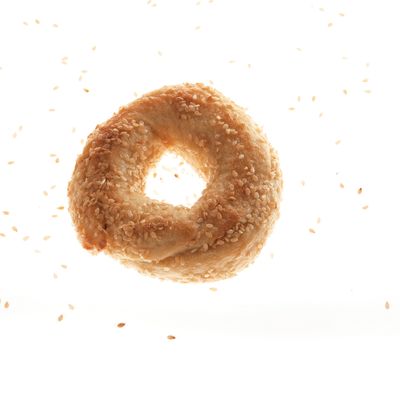 Roberta's bagels are little larger than this Montreal-style example from Mile End.
Photo: Mete Ozeren/New York Magazine
Chalk up another victory for old-fashioned-bagel fans: Grub learns that Roberta's is making wood-fired bagels, joining King's County sibling Mile End, which started baking its own Montreal-style bagels not long ago. Chef de cuisine Max Sussman tells us the restaurant offers the bagels only at weekend brunch for now, in an onion flavor with minced onions in the dough, and a pumpernickel-everything variety dreamed up by Roberta's baker, Melissa Weller.
According to Sussman, these puppies are a bit larger than a Montreal-style bagel, with some "texture/crunch on the outside," while they're "chewy and moist on the inside." Roberta's serves the carb-orbs simply, with a side of house-made scallion cream cheese — actually, it's called "miticrema." As Sussman explains: "It's a Spanish sheep's milk cheese high in butterfat. We warm it up a little bit so it softens, and whip in chives and scallions." Ladies and gentleman, one more example of this, and it'll be time to declare hipster bagels a trend.
Related: For Old-Fashioned-Bagel Fans, Things Are Looking Up
Mile End Will Start Making Its Own Montreal-Style Bagels