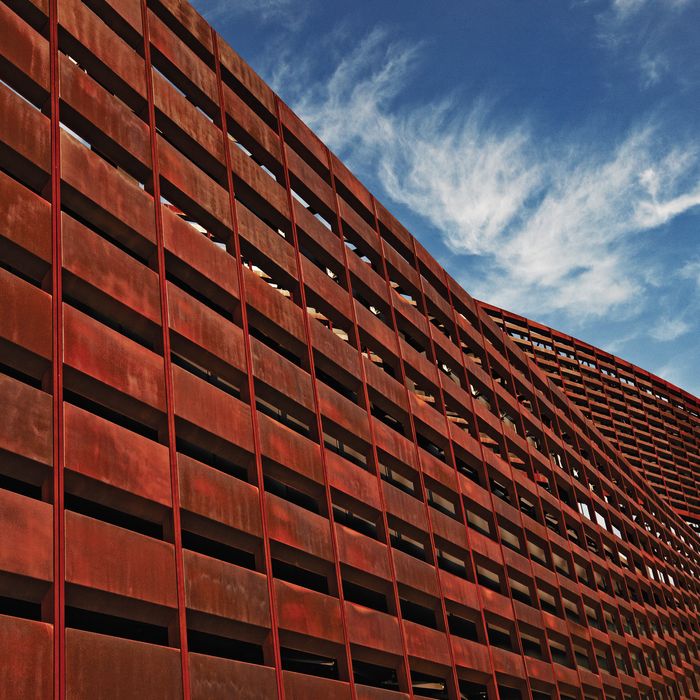 The Barclays Center sits at the intersection of great restaurant neighborhoods.
Photo: Adrian Gaut/New York Magazine
Like it or not, the Barclays Center is done and throwing its doors open this Friday with about a zillion Jay-Z shows. After that, it's a steady slate of concerts (Bob Dylan, Neil Young), basketball games, and, uh, Disney on Ice. Point is, at some point soon, you'll end up at the arena, and you're going to need a place to grab a drink or something to eat (even if you're into the idea of overpaying for nouveau-Brooklyn concessions). The neighborhoods surrounding Barclays are far more interesting than the restaurant netherland near Madison Square Garden, and regardless of what you're looking for, we've got you covered. We've even mapped the results below so you can chart a course accordingly.
Grab a Beer.
Before or after a game, these are the best spots:
4th Ave Pub: A huge beer selection, plus, free popcorn!
Der Schwarze Kölner: The Fort Greene beer garden is open until 1 a.m. on weekdays and 4 a.m. on weekends
High Dive: The beer's cheap at this Park Slope joint.
Mission Dolores: A beer-heavy bar in an old garage that opens midafternoon and doesn't close until 4 a.m.
Pacific Standard: Some fantastic beer on tap at this laid-back California bar.
Or Something Stronger …
Flatbush Bar(n): The next-door restaurant is a neighborhood favorite, but it closes at 11. The bar stays open until 3 a.m.
Frank's Cocktail Lounge: The Fort Greene throwback is much-loved for a reason — it's outstanding.
Hank's Saloon: A dive bar in the best possible sense.
Soda Bar: There's a laid-back vibe and tons of seating, which makes this a great place for a postshow whiskey.
Union Hall: It's a fifteen-minute walk from the arena, but there's bocce!
Weather Up: High-end cocktails at this white-tiled spot on Vanderbilt.
Eat Before a Game.
Those 7:30 tip-offs are tough to make — these places serve food fast.
Bark Hot Dogs: The sausage-focused equivalent of Shake Shack, this is twee Brooklyn's version of fast food.
Beast: They don't open until six, but the small-plates menu makes it easy to eat in a hurry.
Bklyn Larder: The gourmet grocery store is a great spot for a sandwich or to grab snacks for later — if you think you can get them past Barclays security.
James: Sit at the bar and order a burger.
The Smoke Joint: Grab some pregame barbecue at this spot. It's open all day.
Head Here When the Nets Are Getting Blown Out.
Leave the arena early, then make up for a bad game with a good meal.
606 R&D;: As the Underground Gourmet points out, the menu here goes way beyond its "comfort food" trappings.
Convivium Osteria: A fantastic, candlelit trattoria on Fifth Avenue.
Franny's: It's one of New York's best restaurants, and the owners postponed their upcoming move for a few months.
Where to Eat After an Event.
These places stay open late.
Blue Ribbon Brooklyn: Steak tartare and bone marrow just taste better at midnight.
No. 7: Dinner stops at 11 p.m., but the bar's open late.
Pork Slope: The kitchen at Dale Talde's Fifth Avenue bar cranks out ribs, burgers, and tater tots until 2 a.m.
Terroir Park Slope: Marco Canora and Paul Greico's wine bar keeps it kitchen up 'til 1 a.m. on weekends.
The Vanderbilt: Head here for the weekend-only late-night menu.