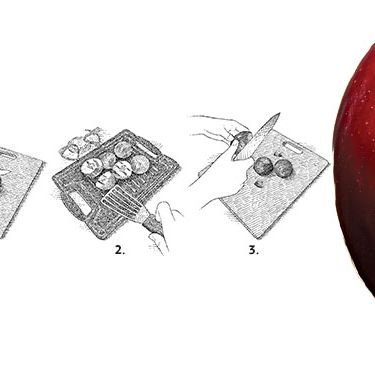 Photo: Victor Prado. Illustrations by John Burgoyne.
For post-Labor Day picnicking, grab a few juicy, semisweet red plums at the Union Square Greenmarket (try Race Farm's stand), and toss some fennel in your tote while you're at it. The easy-to-grill stone fruit fares well with an anise-y and astringent vinaigrette made from the latter; Missy Robbins serves this bright combination at A Voce Columbus as a dwindling-days-of-summer salad.
Missy Robbins's Grilled Plum Salad
For the salad:
8 red plums
1 bulb fennel, sliced thin
1/4 cup plus 2 tbs. olive oil
1 cup baby arugula
Juice of half a lemon
1/4 cup pine nuts, toasted and chopped
Salt and pepper to taste
For the vinaigrette:
1 cup olive oil
1/3 cup fennel seeds, toasted and ground
2 tbs. plus 1 tsp. garlic, roasted and puréed
2 cloves garlic, minced and sweated in 3 tbs. olive oil
Juice of 1 orange
Pinch of dried Calabrian chile
Grated zest of half an orange
Juice of 1 lemon
Salt and pepper to taste
(1) Halve and pit plums and toss in a bowl with 1/4 cup olive oil plus salt and pepper. (2) Grill the plums on both sides over medium heat until the skin begins to blister. Remove, and (3) peel the skin off once slightly cooled. Halve the plums again, and set aside. Combine all vinaigrette ingredients in a large bowl, and mix well; add plums. Season with salt and pepper to taste. Place on 4 individual plates, with the sliced fennel on top of the plums, followed by the arugula. Drizzle with 2 tablespoons of olive oil and the juice of half a lemon; garnish with pine nuts.