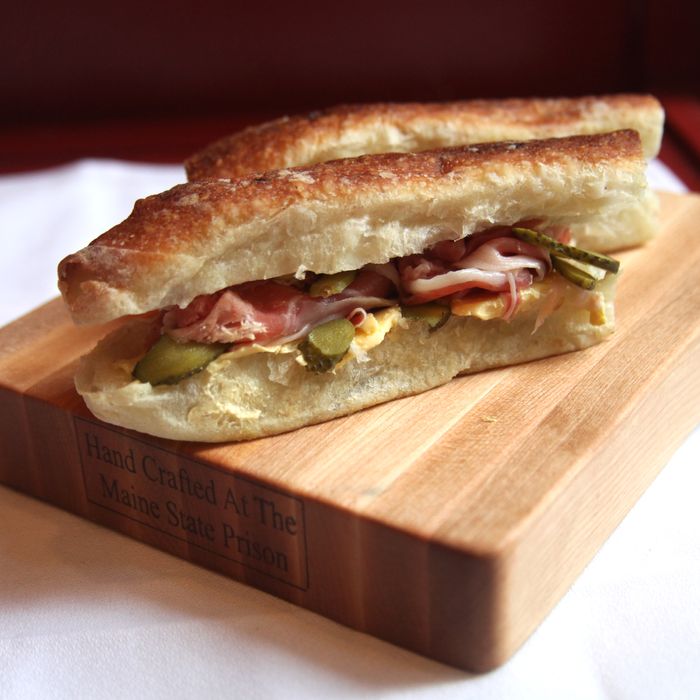 "Surryano" ham, cantaloupe melon butter, pickles, stecca.
Photo: Celeste Sloman/New York Magazine
Sara Jenkins has already given East 7th Street the swine-centric Porchetta and the pasta specialist Porsena. Now, an expansion into the latter's adjacent storefront brings Porsena Extra Bar, a narrow slip of a lunch counter by day, small-plates-dispensing wine bar by night. The midday menu redresses what Jenkins perceives as a neighborhood dearth of quick lunch fare with sandwiches like Surryano ham with cantaloupe butter and cornichons, a play on the French jambon classic.
In the evening, chef Millicent Souris (late of Egg and Roebling Tea Room) orchestrates cold compositions to pair with wine, including yellowfin-tuna puttanesca, pickled-mussel escabéche, and mortadella mousse. Both wine and food extend beyond Jenkins's characteristic Italian slant, incorporating Mediterranean-rim flavors from such disparate sources as Spain and Lebanon — sometimes on the same plate, as in a lunchtime mash-up of pan con tomate and flatbread with yogurt and za'atar.
Porsena Extra Bar, 21 E. 7th St., nr. Third Ave.; 212-228-4923