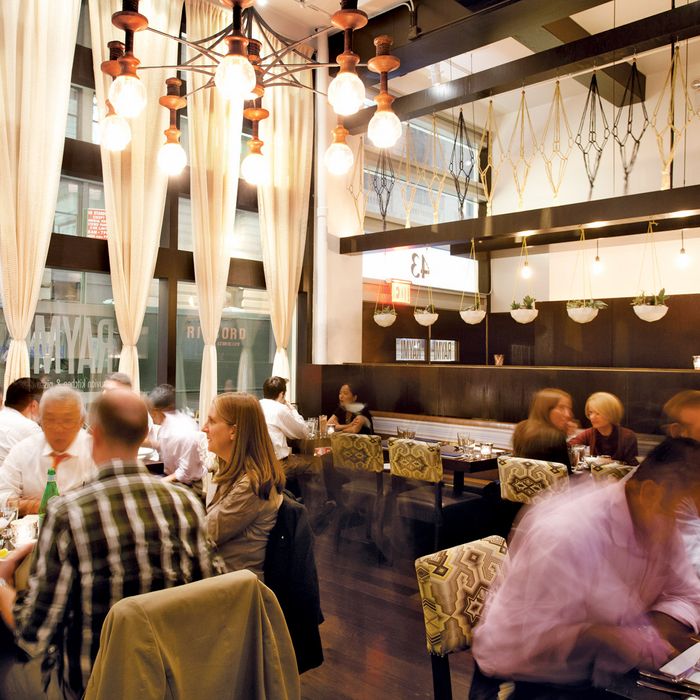 Raymi
Photo: Victor Prado/New York Magazine
This week, New York's own Adam Platt ate at Raymi, the newest member of Richard Sandoval's "ever-expanding Pan-Latino empire," despite a "vague sense of foreboding." In the end he gave it one star, but where did the city's other professional eaters stop this week? Read on to find out.
Pete Wells reconsiders Le Cirque, which earned four stars from the New York Times in 2008, and finds it lacking: "the famous chocolate soufflé lacked conviction," "new dishes lacked rationale," and "nearly everything lacked seasoning." The staff, however, almost made the visit worthwhile … until he got the check. One star.
A busy man this week, Wells also logged an entry into his Critic's Notebook after trying Eleven Madison Park's new concept menu, upscale twists on classic New York foods. Unimpressed, Wells wrote: "The narrative tone isn't sharp, it isn't quick, it isn't wised up, and it assumes the listener knows nothing: in other words, it's not a New York voice. By the end of the four hours, I felt as if I'd gone to a Seder hosted by Presbyterians." Ouch.
Nothing is ever what it seems. Ryan Sutton experiences this maxim as he continues his penchant for reviewing modernist cuisine, this time at Atera, where the $165 tasting menu lasts nearly three hours and includes twenty-plus courses. The verdict? "The four stars will surely come one day."
Robert Sietsema welcomes Casa Enrique as a much-needed addition to the city's Mexican cuisine. The chef hails from Chiapas, a southern Mexican state famous for its moles, which are in rare form and generous supply on this menu. The atmosphere makes for "a great date spot," while the food has the critic cheering, and hoping for more Southern Mexican restaurants to make their way this far north.
Meanwhile, also at the Voice, Tejal Rao heads to Chelsea to try Chop Shop, which Rao finds aptly named: "Like a garage that steals the parts it needs to get the job done, Chop Shop has cut-and-pasted an Asian menu for the Chelsea crowd — its loyalties do not lie with one region, or even one country." While the "noncommittal" food leaves "room for depth of flavor," the atmosphere could be "a lovely place to linger" … if only the service were better.
The Daily News' Stan Sagner can't visit the Hurricane Club without lamenting its predecessor, the goofy and self-aware Trader Vic's. The former is "a far more cynical variation" of the late "absurdly overpriced faux Polynesian Tiki lounge." Sagner pans the food, from cliché and derivative appetizers to overrich entrées and too-sweet desserts.
The New Yorker urges you to visit Reynard, though they didn't get the memo that it's no longer called Reynards. Anyway, the "surprisingly good" restaurant inside the Wythe Hotel checks all the Brooklyn boxes (ethically sourced ingredients, "friendly and loose" service," etc.) without the "preciousness" and "twee factor" of the rooms upstairs and the neighborhood outside, adding that "you don't feel like part of a parody, you just feel lucky to be there."