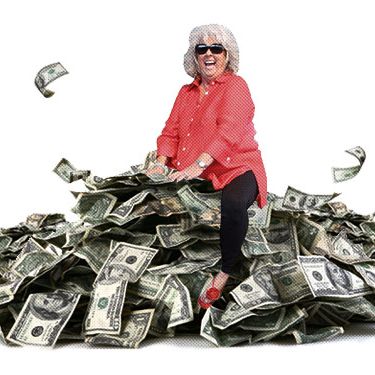 She's too rich to care what we think.
Photo: Andrei Kallaur, Jen Cotton
There's little doubt that Paula Deen is a name-licensing legend: After all, this is the woman who sells butter-flavord lip balm and parlayed a type 2 diabetes diagnosis into a prescription-medicine spokesperson deal. But her deals go much deeper than that. The latest example: a press release that calls our attention to a line of Paula Deen–branded Anti-Fatigue Kitchen Mats.
What, you're surely asking yourself, is an anti-fatigue kitchen mat? Well, it "has a supportive surface to reduce foot, leg and lower back pain as well as overall fatigue," and apparently the mats, which were first released earlier this year (in colors like camel and walnut), have been such a hit that Sleep Innovations, the company that makes them, is expanding the line to include a Pro Mat and a line of spiffy mat covers.
Curiously, the mats themselves don't appear to be for sale anywhere online — not even at Walmart or Sleep Innovations' official site (though they do list something called a Massaging Gaming Chair) — so we don't know where you can actually buy these things. Maybe that's for the best, since this seems like a needless product. Then again, cushioned mats could be just the thing for restaurants looking to go seatless.
Paula Deen Anti-Fatigue Kitchen Mat Inspires Extension of Sleep Innovations' Revolutionary Product Line [Business Wire via MarketWatch]