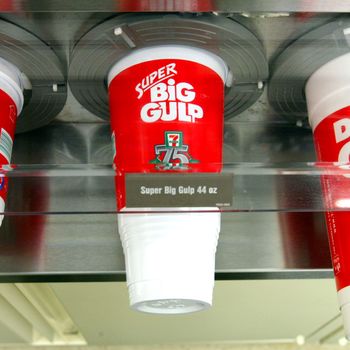 Still fine.
Photo: Joe Raedle/Getty Images
The National Restaurant Association released a statement claiming the Bloomberg administration's proposed ban on large-format sodas and other sugary drinks is too confusing as written, stating that "several of the association's members have indicated they will experience operational challenges in complying." Restaurants will indeed have a bunch of new rules to grapple with under announced changes to the health code — jumbo coffees with sugar at Dunkin' Donuts are fine, for example, only when customer adds his or her own sugar. Self-service soda stations in fast-food restaurants like those at Five Guys can only be outfitted with sixteen-ounce cups, the maximum size allowed by the proposed amendment, even if the customer orders diet soda. "We believe that if the proposed ban is approved," writes the trade group's director of nutrition and healthy living, "it will result in customer confusion and operational difficulties." But more and more, confusion seems to be the point.
The New York Times posted an op-doc made by Casey Neistat, in which the filmmaker grapples not only with the basic rules and size limits specified by the language in the proposed ban, including its much-ballyhooed loopholes, such as a customer's ability to buy a mega-Slurpee from one of the many unregulated 7-Elevens while his or her favorite street meat cart informs them they're out of 24-ounce Fanta. There's also the dairy exception, wherein any number of Coolatas or Frappuccinos are fine because their milk content seemingly attenuates the sugar.
A network of confusing rules might be a good thing to combat the rising rates of obesity, argues Neistat. "Whether or not this ridiculous ban passes, it has forced a conversation about why people are getting fat. And that," he says, fumbling the Biggest Gulp of all time onto the sidewalk, "that's a good thing."

NRA says NYC drinks ban is confusion in a cup [Restaurant.org]
Soda Ban Explained [New York Times]
Earlier: Do We Really Need to Ban Soda?