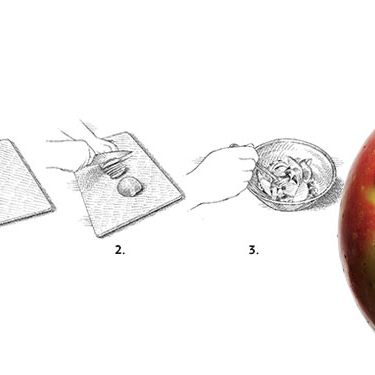 Photo: Victor Prado; Illustrations by John Burgoyne
Cool, crunchy, and abundantly juicy, the Mutsu also goes by the alias Crispin; one resounding bite and you know why. Look for specimens that flaunt a rosy surface blush with a yellow background — too much green indicates they've been picked before their prime. Mutsus are good for sauce and cider, but best enjoyed in their natural snappy state. Cut one into thin slices, pop in some earplugs, and try it in this terrific apple-celery-salad recipe adapted from Lulu & Po chef Matthew Hamilton.
Matthew Hamilton's Mutsu-Apple Salad
1 large stalk of celery
1 medium-size Mutsu apple (at Breezy Hill Orchard farmstand at Greenmarket)
3 strands of tarragon, chopped
2 tsp. crème fraîche
1 tsp. goat's-milk feta cheese, finely crumbled
1/4 cup toasted walnuts, tossed with 1/2 tsp. extra-virgin olive oil and a pinch of sugar
1 tsp. fresh lemon juice
1 tsp. good-quality cider vinegar
1/8 cup good-quality extra-virgin olive oil
Salt and freshly ground black pepper to taste
(1) Thinly slice the celery on the bias and place in a bowl. (2) Core and thinly slice the apple and add it to the bowl with the celery. Add the tarragon, crème fraîche, feta, and walnuts. (3) Mix them up a bit with a spoon. Add the lemon juice, cider vinegar, and half of the olive oil. Season with salt. Stir again and, if necessary, adjust seasoning with more salt and olive oil. Plate and finish with black pepper and the remaining olive oil. Serves 2.
*This article originally appeared in the October 8, 2012 issue of New York Magazine.