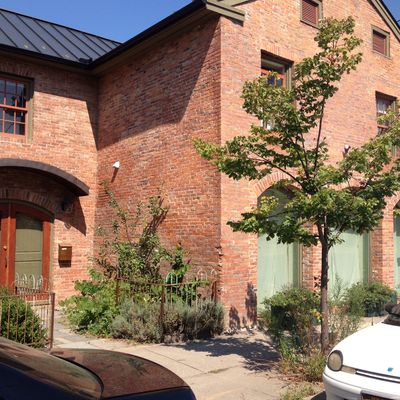 The building is a former blacksmith shop.
Photo: Jenny Miller
Zak Pelaccio still doesn't have a name for the restaurant he and his wife, Jori Jayne Emde, are opening in Hudson toward the end of the year. But when we got him on the phone yesterday, he did share the address: 13 South 3rd Street, "just off Warren, the main drag." The two-story brick building (pictured) is "an old blacksmith shop and carriage house," Pelaccio notes; upstairs will be storage and offices, and downstairs, a 36-seat dining room with a semi-open kitchen and a small bar area.
"We want the restaurant to feel like our home — welcoming," Pelaccio told us, describing the "tables fashioned from black walnut from a fallen tree" and floor made from"old salvaged white oak wood" that will continue into the doorless kitchen, where the plan is to keep the vibe warm by "minimizing the stainless steel countertops."
There's going to be a wood-burning and grill and a "little rotisserie," Pelaccio says. And while the food will "focus primarily on the bounty of Hudson Valley," the couple won't insist on staying "rigorously local … We'll use stuff from Asia, olive oil from Italy."
Speaking of local, Pelaccio and Emde will grow some ingredients in the 2,500-square-foot garden of their home in Old Chatham, twenty minutes away. "We want to grow as much as possible, but we have to see what's possible," Pelaccio muses. He does note, "We're amibitious with what we want to do with our property." For one, "We want to get pens and have rabbits."
As we spoke, Pelaccio apologized for fumbling the phone — he was checking on some duck and squab he had aging in a walk-in in Old Chatham. He then described a duck confit he had started making while we talked, which he plans to glaze with "maple syrup from the farm and liquorice root from Hong Kong" and which the couple will serve at a dinner on Sunday. He obliged our plea to hear about the rest of the menu, warning that it wouldn't necessarily be the same food he'd offer when the restaurant opens, most likely in the dead of winter.
For Sunday, along with the duck confit, they'll serve roasted cod with pork trotter sauce; chicken with potatoes; clams with nasturtiums; oysters with home-made green-bean kimchee; and noodles made from local spelt Pelaccio grinds himself, served with chili and Maine sea urchin. (Before you go scrambling to get tickets, know that this is a private event purchased at a charity raffle that will be served in someone's home.)
The green-bean kimchee is just one of many condiments Emde has created from the garden's crops; she's also put up kimchees made from rhurbarb and rattail radish; sour cherry and coriander jam; a killer smoked Worchestershire sauce; and many other garnishes that will serve as accoutrements at the restaurant, ensuring this food won't be run-of-the-mill farm-to-table fare.
Pelaccio described the couple's vision for the spot as "the romantic idea of the country contrasting with the modernity of new technique." And he noted, almost as a disclaimer, "We haven't done this before, and there aren't a lot of people who have. I can't call Dan Barber because I don't have Stone Barns; I don't have Rockefeller money. We're figuring it out." [Earlier]