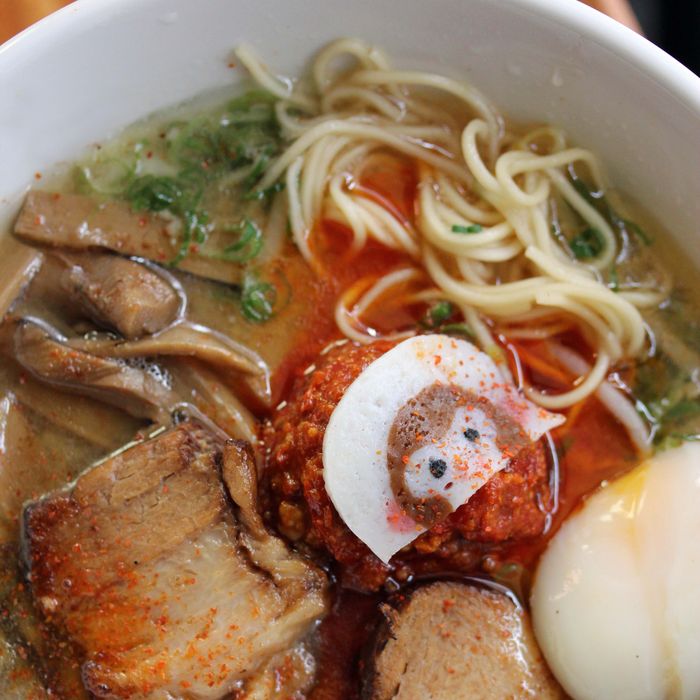 Big year for noodle soup: ramen at Hinomaru.
Photo: Bradley Hawks
Along with his entourage of Frenchmen, Bibendum comes to town next week to announce the inspectors' picks for the 2013 Michelin Guide. Today, however, Michelin released its annual Bib Gourmand list, composed of 126 restaurants offering "excellence on a budget." (The guide defines budget as "two courses and a glass of wine or dessert for $40 or less.") Newcomers Jin Ramen and HinoMaru make it clear just how big a year it's been for noodles, while the inclusion of Yunnan Kitchen and Family Recipe make the case that small, home-style Asian restaurants are gaining favor over ambitious, big box venues.
Don Antonio by Starita, Astoria's Basil Brick Oven Pizza, and Speedy Romeo in Clinton Hill are pizza newcomers; of course, Power Rankings regulars Battersby and Pok Pok are on the list, but where are Mission Chinese and Calliope?
Elsewhere, the equine Jack the Horse and dim sum hangout Golden Unicorn. Both restaurants were dropped from the list this year, along with Emporio and Les Halles.
Who's new:
Alobar
August
Basil Brick Oven Pizza
Battersby
Calyer
Casa Enrique
Chavela's
Don Antonio by Starita
Enoteca Maria
Family Recipe
Havana Café
HinoMaru Ramen
Il Buco Alimentari & Vineria
'inoteca e Liquori Bar [closed]
Jin Ramen
Land of Plenty
Laut
Lu Xiang Yuan
New Malaysia
Ornella
Pane Panelle [closed]
Pok Pok
Purple Yam
Speedy Romeo
Sura
Uncle Zhou
Yunnan Kitchen
Who fell off:
Bahari Estiatorio
Emporio
Golden Unicorn
Hung Ry [closed]
Jack the Horse
Kif
Les Halles
Piccola Cucina
Sette Enoteca & Cucina [closed]
Shalezeh [closed]
South China Garden [closed]
Taco Taco [closed]
Uvarara
World Tong [closed]
Bib Gourmands Selection 2013 [Michelin]