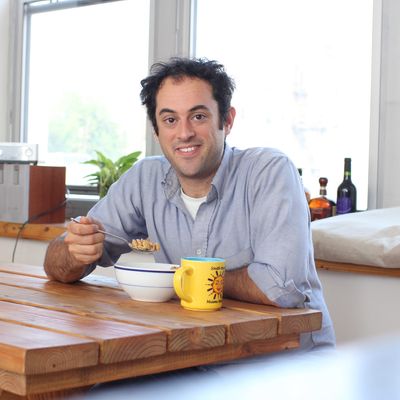 Sussman, at home, with cereal.
Photo: Melissa Hom
Max Sussman and his brother Eli have collectively cornered the market on cool Brooklyn kitchen jobs: Max is chef de cuisine at Roberta's, while Eli cooks at Mile End. So it's fitting, then, that the two have just released a cookbook aimed at the kind of twenty- and thirtysomethings likely to frequent such joints. This Is a Cookbook: Recipes for Real Life is, as Max describes it, "for the home cook who doesn't have a lot of time and a huge budget." That means things like homemade bacon, fish tacos, and a meatball sandwich that's enough of a stain culprit they recommend eating it post–Labor Day. Now that the book is out, we checked in with Max to see what he's eating. Little did we know we'd happen to catch him the week the Clintons hit Roberta's (though when we pressed about whether anyone had requested vegan options, Max declined to comment). Read about that pork-chop-centered menu and the rest of his week, straight ahead.
Friday, September 21
My folks were in town, so we went to Shelsky's, and we got a ton of smoked fish — pretty much everything they had there. Smoked mackerel, cold smoked salmon, whitefish salad. I put it all on a bagel and ate an enormous sandwich for breakfast.
For coffee, I have this hand Burr grinder that's a manual grinder. You have to grind it like 300 times, so I love it and I hate it at the same time. It's pretty intense, and it's not really the best thing to do right when you wake up. So I had coffee, but it's a little bit of an ordeal — you almost want to have coffee before you do the workout. But that's my typical morning coffee routine.
Then I went to work. The next thing I ate was half a burger. We have a really amazing dry-aged burger at Roberta's — we did it on a sesame roll, and we had salsa verde lying around. I split it with the sous-chef there. That was probably like 3 p.m. When I'm at work, water and coffee is all I drink.
That night was the private event, so I tasted everything that they were going to be eating. We had three canapes. Shrimp cocktail — we poached the shrimp with homemade cocktail sauce. Pumpernickel toast with beef tartare and watercress. And smoked ricotta on crostini with black pepper and honeycomb. We also served them big old racks of pork we cut into pork chops, with sautéed kale, and roasted delicata squash.
I ate a bunch of gelato for dessert. Katy Peetz, our pastry chef, makes the best gelato I've ever had, and I currently eat gelato every day because of her. The blueberry cinnamon on the menu right now is pretty amazing. That was it. After the gelato, I was done.
Saturday, September 22
I had coffee, and I had a bowl of cinnamon Life cereal. We'll go on cereal binges and get a lot of cereal and then don't have any for a really long time. When we have it, I'll eat, like, five bowls a day. After that I had a bowl of Product 19, which is another really amazing cereal that's super underrated. And I had some leftover whitefish salad from the day before, on a piece of toast.
Eli and I had a book signing at Williams-Sonoma in Columbus Circle. We were demo-ing and serving samples of the grilled meatball sandwich and the watermelon gazpacho. They have an amazing test kitchen there, so we used their space to make the food. Then I went into work and there was family meal — a little bit of leftovers from a catering event. It was braised short ribs with freekeh, which is kind of like farro; it's really, really good. Then I just tasted everything through service.
Later, we made a late-night snack: We made porchetta sandwiches. Our porchetta is pork collar, which is really marbled, juicy pork shoulder. We grind it and wrap it in pork belly with the skin on, then we stuff it with rosemary, fennel pollen, and Meyer lemons, and we roast it till it gets really cripsy. We made sandwiches on some leftover potato rolls with avocado and chili sauce, and I probably had a beer at the end of the night.
Sunday, September 23
Sunday, I worked brunch. I don't even try to eat anything, but I end up feeling completely full. Brunch is the best snack service you could possibly imagine, and it's different than the food you taste during the week, so I love working brunch. We make our own sausage. There's cinnamon buns, there's croissants, we have these roasted potatoes … You have to be careful.
I love brunch as a concept; it's like you do your big blowout meal early in the day. It's really communal, a litlte more focused on hanging out. I don't ever go out for brunch, but I like cooking brunch. I applaud those who are willing to get their friends together in the morning and then wait, so I want to make it worth it for them. And I drink a pretty insane amount of coffee to get through.
For dinner, I went to En Japanese Brasserie. We got a ton of food. I completely overate. We got both kinds of homemade tofu — they do warm and cold — vegetable tempura; a miso-marinated sable; tofu-skin salad; fried chicken; a couple of kinds of sashimi; and an uni roll with seared tuna on top. It's one of the few Japanese restaurants that's open on Sunday, which I've learned, trying to go out on Sunday nights. I had some bourbon and bitters and a couple of beers. I was insanely full.
Monday, September 24
I had coffee, and a bagel from Roberta's — I had taken some leftover bagels home. So I had an onion bagel with cream cheese. There was a meat ragù they made for family meal but no rice or anything left, so I just ended up eating a bowl of that.
Then I went to Maison Premiere and had a few drinks: two absinthe cocktails. We just had a couple of different things. There was a warm scallop dish. There was a sea urchin dish. There was a geoduck dish I really liked. Those are the ones I remember the most. I didn't get any oysters that night.
Tuesday, September 25
I went to John Brown Smokehouse in Queens for lunch. I had brisket, pulled pork, and some burnt ends, and fries. It was really good. I'd never been there before, but it was really cool — there's a huge place where you can sit out back.
I did not eat dinner, because that was so much goddamn food that I wasn't hungry anymore. I kept thinking about what I was going to eat for dinner because I was off that day, but I was so full from all that meat that nothing happened.
Wednesday, September 26
I went to work, and I started off with a pizza — it's called the Millenium Falco; it has pork sausage and onions and basil. I drank some coffee.
Then I just did my normal thing where I was tasting everything during service. We have different cooks and different people prepping things; I'm just making sure everything's cooked right and has the right amount of salt. Everything's always in need of tasting or adjusting.