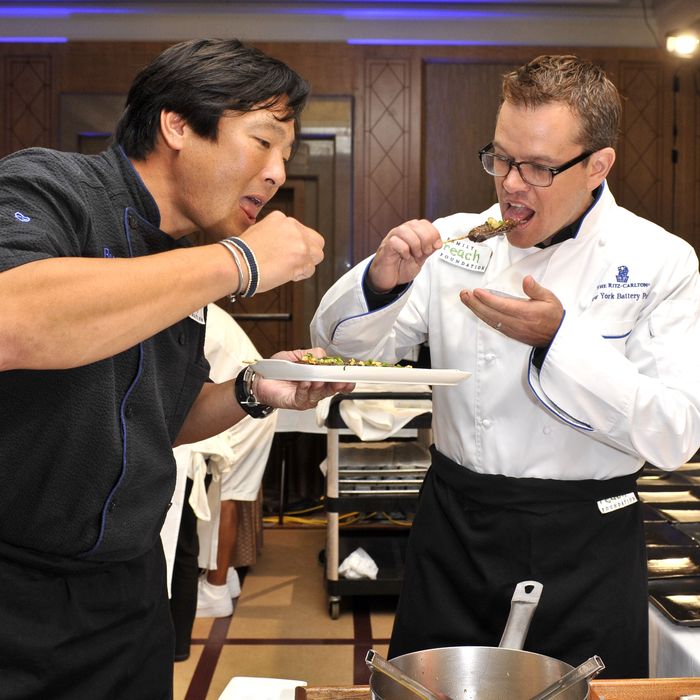 Damon, last night.
Photo: Harel Rintzler/Patrick McMullan
Last night at the Family Reach Foundation gala, Matt Damon performed one of his hardest roles yet: sous-chef. "At home, my only responsibility in the kitchen is … well … eating," Damon told Grub Street. But as Ming Tsai's right-hand man, and for a terrific organization that provides support for families fighting cancer, Damon happily complied to some goodwill cooking. But not before answering some of our questions, starting with: How do you like them apples? (Just kidding.)
What do you eat during a Matt Damon movie?
I can't watch any movie without popcorn. Even at my own premieres. It's really bad; I have to have it. I physically can't watch a movie without a big box of popcorn and a soda.
Do you make anything for you kids?
Maybe pancakes. But if anyone asks for blueberries or chocolate chips then forget it, it's back to the bullpen.
After weeks of being away filming, what do you want waiting for you at home?
My wife makes an amazing Milanese. And for dessert, well, I've been called a simpleton, but I love a hot fudge sundae. A Friendly's hot fudge sundae… oh man.