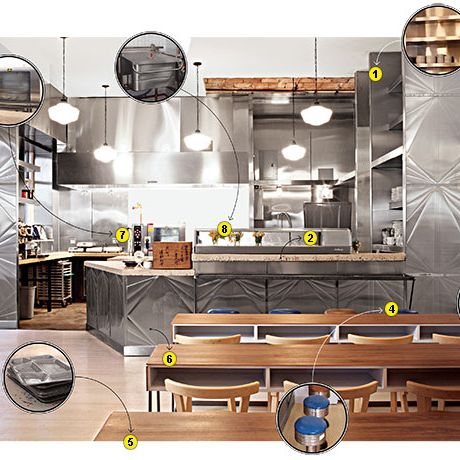 Not every museum-cafeteria operator derives as much satisfaction in finding a kitchen sink from Cabrini hospital's psych ward as from having the sous-vide setup pass the Health Department inspection. But M. Wells Dinette, opening September 27 at MoMA PS1 in Long Island City, is no ordinary museum café. Rather, it's the reincarnation of M. Wells, the short-lived Hunters Point diner that garnered a cult following before losing a rent battle with the landlord. The museum saw a kindred spirit in owners Hugue Dufour and Sarah Obraitis, and after a gut renovation overseen by Dinette partner (and, handily, licensed plumber) Keith Cappuccio, the full-service restaurant is ready to debut. It will operate during museum hours (noon to 6 p.m. Thursday to Monday), and from 10 a.m. on weekends. (Dufour is that rarest of chefs who actually loves brunch.) Take a tour of the space, which references classroom and diner imagery and is still awaiting its final, uncafeterian touches, like the sneeze guard on the roe bar.
22-25 Jackson Ave., at 46th Ave., Long Island City; 718-786-1800.
1. Towering stainless-steel shelves will be both functional and decorative, housing "things we use, and maybe Hugue's favorite piece of taxidermy," says Obraitis. The textured panels came from the venerable DeRaffele diners in New Rochelle.
2. A sushi display case will serve as Dufour's horse-tartare—yes, horse—station: "There'll be a hand grinder inside covered with meat."
3. To riff on PS1's history as a public school, menus will be written on chalkboards. What you might see there: rabbit terrine, brandade with black-olive oil, and old favorites like bibimbap with tuna and scallops.
4. Counter stools nod to the defunct diner.
5. Obraitis sourced 30 heavy-duty trays she suspects were used in some army's mess hall. Dufour wants to fill them with compartmentalized meals: caviar with all the garnishes, say, or clam blanquette with mashed potatoes. "And dessert built in."
6. A friend built these tables with school desks in mind, including cubbyholes to hold utensils; actual elementary-school chairs will have built-in book racks underneath.
7. Electric Alto-Shaam CombiOven: "It steams, it smokes, it has convection heat, and it cleans itself," says Dufour. "We've never had such a great piece of equipment."
8. Groen Eclipse 30-gallon ergonomic tilting braising pan: This baby does even more than the CombiOven. "You can boil a batch of lobsters in it," says Dufour. How many lobsters? "Oh, I'd say about 40."