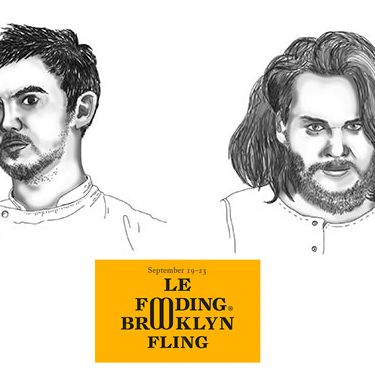 Bertrand Grébaut (left) and Magnus Nilsson are heading to Brooklyn.
Photo: Le Grand Fooding, Illustrations: Claire Fanjul
As we told you the other week, Le Fooding is coming to Brooklyn this year with some absolutely mind-blowing events. (Check out the full lineup here.) One example: the Luncheon in the Dust, named after Manet's famous Luncheon in the Grass. On September 22 and 23, some seriously talented chefs are headed to the Brooklyn Flea: In addition to homegrown talent from the Van Leeuwen crew, Swedish chef Magnus Nilsson (from Fäviken Magasinet) and French chef Bertrand Grébaut (of Septime) will be on hand to, in the words of the festival's organizers, "lend flavor to vintage, to reinvent yesterday's palate" (a.k.a., serve lunch). And, in case you couldn't tell from this post's title, we're giving away a pair of tickets.
Here are the specifics: We're giving away to spots to the September 23 edition, which will be held at the Williamsburg Brooklyn Flea beginning at 11 a.m. Once you're in, you eat.
Here's what you have to do to win: Just tell us in the comments below what kind of food your ideal picnic would include (we're already feeling nostalgic for summer) by 10 a.m. EST this Friday, September 7. The more unexpected and ambitious, the better — we'll pick our favorite, and you'll be on your way to a free lunch from some world-class chefs.
Click here for complete contest rules.
Update: We have a winner.
Related: Le Fooding Brooklyn Tickets Now Available (for Real)