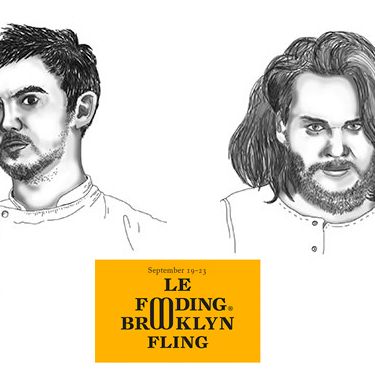 Lunch is on them.
Photo: Le Fooding
Earlier this week, we tasked you with telling us about your perfect picnic, the deal being we'd pick our favorite and reward the effort with a pair of tickets to the Le Fooding Luncheon in the Dust that's happening on September 23. Lots of great entries came through — all of which inspired us to get our act together and arrange our own picnic this weekend — but, in the end, there could be just one winner.
There were lots of calls for fried chicken both hot and cold (and commenter ChknNWaffles wants to pair theirs with carbonated Chartreuse cocktails, a nice touch); Newyawka15 imagined a truly fantastic picnic that involved Jiro's sushi, a replica boat from Pirates of the Caribbean, and swimsuit models; and Georgiacatgoesna reminded us that all food sounds better when it's described in French.
However, we're picking commenter Kothario's picnic as the winner because of the way it calls back to Magnus Nilsson's involvement in the luncheon, involves both pig spleen and ground moose meat, and because Grub Street has an unyielding love of herring:
To me a picnic isn't about doing first course / second course / etc. It's about having a variety to pick from while lazing away in the sun, enjoying a glass or two of an icy cold beverage. Chef Nilsson's presence puts me in mind of Scandinavian food, so we'll run with that theme. A selection of meats, preserved fish, cheeses and breads, but let's make things interesting: roulades of rolled pig's spleen (one of the great undersung cuts) braised in lager with juniper, cooled, and sliced thinly into rounds. Finnish Vorshmack, a meat dip made of lamb, moose and herring. And Sylteflesk, a Nordic headcheese. More herring, of course — a couple kinds — a lightly smoked French style, and some fresh, new catch herring. An assortment of cheeses: Geitost, a cheese made of reduced carmelized goat's whey, some Nokkeler, heavy on the caraway — and Swedish Vasterbotten, because you don't have herring without Vasterbotten.
 


A couple salads — chopped small, as we don't want to have to deal with utensils — perhaps a beet-apple salad, and a fennel-orange to brighten things up. Finally, some dark, sour rye slices on which to pile everything. 
 


This picnic having a Nordic theme, we'll be pairing with beer. A few interesting bottles from Mikkeler and Nogne would be delightful.
Thanks to everyone who entered. And if you'd like to get some tickets for any of the Le Fooding events the old-fashioned way (a.k.a. buying them), just head here.
Earlier: We're Giving Away Two Tickets to Le Fooding's Luncheon in the Dust