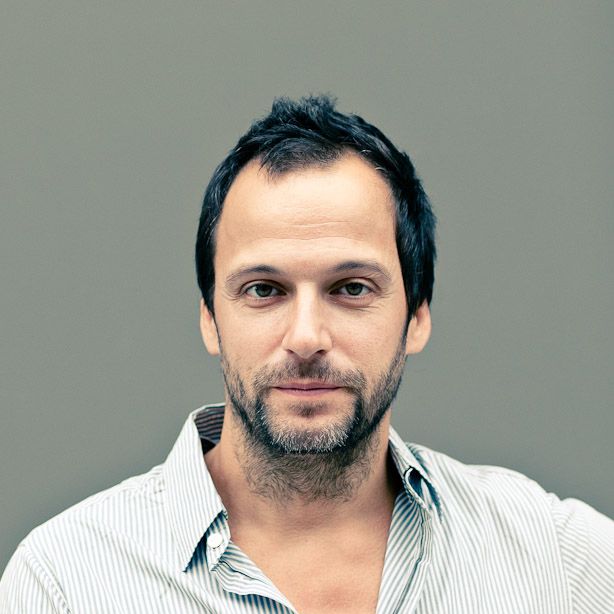 Cammas.
Photo: Courtesy of Le Fooding
Alexandre Cammas — the founder of madcap peripatetic food-and-music festival Le Fooding —
is no stranger to Brooklyn. In 2009, the former food writer spent five months living in Fort Greene with his wife and two kids. Yet this year, the festival (which begins today and runs through Sunday) is landing in Kings County for the first time. Local chefs like Saul Bolton and Ignacio Mattos are teaming up with out-of-towners such as Sean Brock, Magnus Nilsson, and Inaki Aizpitarte. Events include brunch at Nitehawk Cinema, lunches at the Brooklyn Flea, special dinners at spots like Frankie's and Vinegar Hill House, and a Campfire Session concert with Mike D. It all sounds — pardon our French — très Brooklyn. We caught up with Cammas to talk about the event, how American and European chefs are influencing each other, and his thoughts on Roberta's.
Where do you like to eat when you visit?
In Brooklyn, I like Franny's, Marlow & Sons, Vinegar Hill House. I absolutely don't understand the craze about Roberta's. I went several times, and each time, it was good but not like a grand chef, you know? I think it's not — nobody in 50 years will remember the food of Roberta's. We will remember that it was in a new area, with very modern local vegetables. And the spirit and the community, etc. But not the food.
For Manhattan, at Locanda Verde, the pasta menu is very good. I like the Dutch, of course. Momofuku. I like Torrisi and Torrisi sandwich [Parm]. Where was that restaurant we went to with Adam Gopnik … Calliope? Calliope is good.
Why did you decide to focus on Brooklyn with this year's Le Fooding?
I think it was natural to make a tribute to Brooklyn, because more than the creativity and the chef's touch, they brought a new spirit that you can recognize at restaurants like Chateaubriand Paris or Verre Volé in Paris. I think that the goal of all human people all over world is to be free. And what is very interesting in Brooklyn and in East Paris is this freedom.
Be honest: Is très Brooklyn really a thing in Paris?
It's the food trucks. I'm not sure it's Brooklyn style — it's more Californian. I think it's just a trend. I'm not sure there is a very Brooklyn presence in Paris. I just think that chefs from Brooklyn and from East Paris and East London, when they meet each other, they become friends and they do the same thing.
So they're influencing each other?
Yeah. Now, what's very interesting is the big idea about local food. I think that we should be more open in France about all the street food that you have, in the flea market, sandwiches that are very, very good. I don't know if it's "Brooklyn," but I think that it's American. And I think that it's started to change the mindset in Paris about cheap food.
You mean that people accepting that casual food can be just as exciting as haute cuisine?
Yeah, like sandwiches. But the problem is that cheap food, popular food, like street food is so expensive today even in Brooklyn that's it's like a new small luxury. And there is a gentrification of this style of food in Paris, too.
Any examples?
So, there are two very good food trucks for hamburgers. …Burgers are a craze in Paris now. What's very interesting is that if Brooklyn is influencing us, it's because it offers some new ideas about what you can do with French food. In two months, maybe the two best sandwich shops of Paris opened. Not American sandwiches, but French sandwiches, which are very, very good. One is Chez Aline, and the other one is Le Cave du Verre Volé.
So, just the idea that you can have a sandwich shop that's very good is maybe borrowed from Brooklyn, or New York?
I think it's just an attitude. It's just that you can cook the plat du jour that is not so good, or you can cook the best sandwich. Just six years ago, it was not possible.
So, let's talk about the future of Le Fooding. You're expanding to Los Angeles next year, right?
Yeah. We are supposed to go to Los Angeles next year — in April. We are not far enough along to speak freely about it, but what we know is that we will organize events at MOCA.
You're also talking about London and Berlin?
Yes. London, I'm not sure. I think we are, and it's a question of money, too. So we would like for sure to go to London. But it's difficult because they are very dynamic, creative, etc. So if we go, we need to be absolutely perfect.
What about the music aspect? You have Mike D. booked for the Brooklyn event this year. How do you get the musicians onboard?
I'm very familiar with the music universe, because when I was a food writer, I was a friend of the owner of this radio station, Radio Nova. Daft Punk, for example or Phoenix — they were discovered at this radio station. We started to organize big, huge picnics in Paris, with D.J.'s, and then we decided to have some live music. So the Campfire Session is the second in New York, and in Paris, we've organized maybe five. And each time, it's a very, very big pleasure to mix these universes.
So, you're onboard with the idea that food is the new rock?
In food, it was difficult because, because the food world for a long time, it was French, and in France, it was something very serious, very classic, with rules. It was easier to buy a guitar and to become a musician in your garage than to become a chef who can open his own restaurant. So it took more time, in the food universe, to accept the idea of youth. I think it just started in the late nineties, and now we are absolutely in this new culture of food that is more younger than older. What's interesting in food is that food doesn't lie. So you can be "rock and roll," but you have to serve good food.