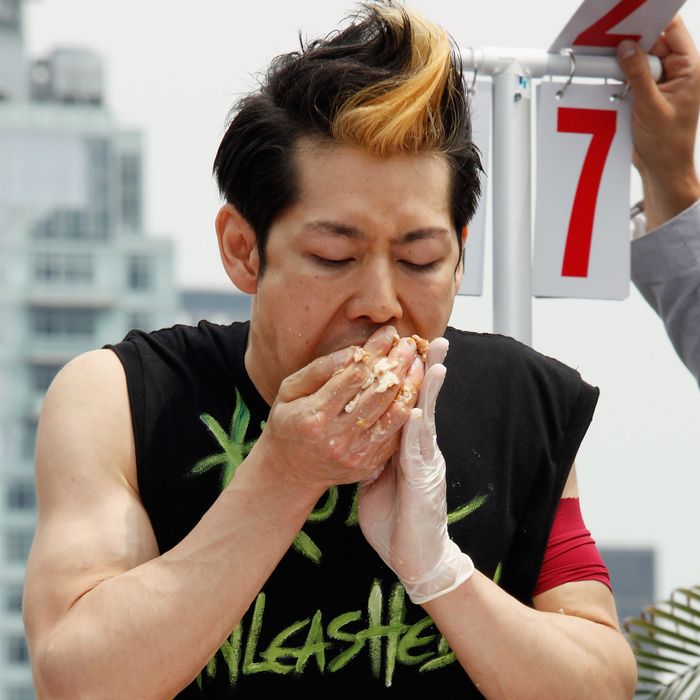 The promo events should be interesting.
Photo: Cindy Ord/Getty Images
We're not sure what took so long, but it sounds like Takeru Kobayashi — the competitive eater who once reigned over the Nathan's Hot Dog Eating Contest but now does his own solo eating exhibitions — will finally be lending his name to a hot-dog brand.
Here's the whole story: According to the Post-Standard in Syracuse, a group of investors bought the Hofmann hot-dog brand back in May, with plans to turn the regional brand into a nationally known name. Interestingly, the investment team includes Syracuse basketball coach Jim Boeheim, former Cowboys quarterback Roger Staubach, and the guy who founded Fuddruckers and Macaroni Grill, among others.
Also on the investment team: Kobayashi, who the P-S says would only agree to invest if he got his own branded line of Hofmann hot dogs. And now, he's apparently hard at work developing the dogs. Kobayashi was last seen eating 110 hot dogs in ten minutes at the New York state fair, so at least the taste tests should go quickly.
Can an all-star team help Hofmann's franks and coneys conquer America? [Post-Standard via Animal