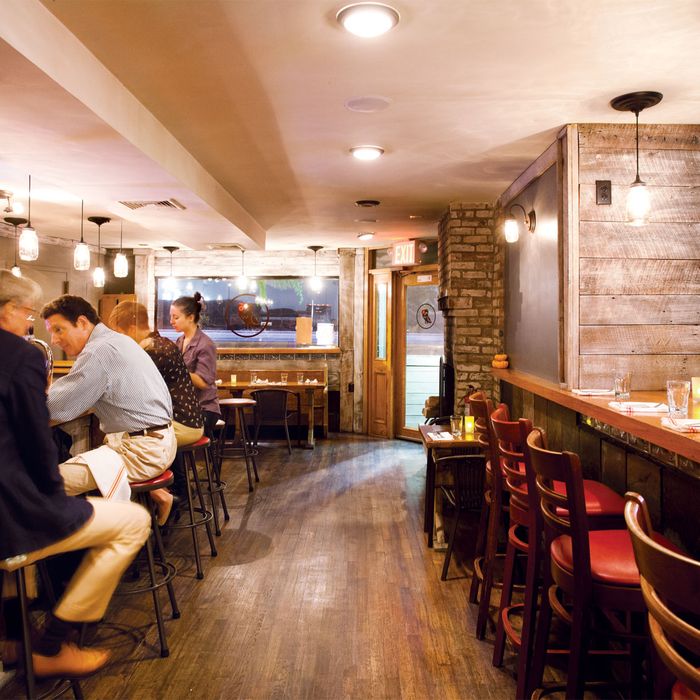 Chió.
Photo: Victor Prado/New York Magazine
Our own Rob Patronite and Robin Raisfield awarded two stars each to the hearty Italian at Chió and the budding dinner menu at Iris Café. Where did the other critics dine? Read on to find out.
After finding "mastery in plain sight" at Ichimura at Brushstroke in Tribeca, Pete Wells felt compelled to share the place where he experienced "some of the most remarkable sashimi and sushi" he'd ever tasted. Steeped in the Edo-mae style of sushi, chef Eiji Ichimura prepares fish with "stronger flavors than are encountered in most New York sushi restaurants." But within this glowing review comes a strange warning: "Even the rice, seasoned with a blend of three vinegars, is unusually assertive; it may ruin other sushi for you."
Robert Sietsema dips into pan-Balkan cuisine, quite literally, at Balkanika. The Hell's Kitchen establishment offers a hearty platter of its eighteen various dips, and goes a long way to correct the underrepresentation of Balkan cuisine in Manhattan by serving a host of other hard-to-find regional dishes.
Tejal Rao suggests taking laid-back friends to find comfort in the food and friendly atmosphere of 606 R&D;. While "there's no wrong way" to go about eating the rotisserie chicken, the more eccentric items on the menu "are what make 606 special."
While they raised a wildly successful daughter in Lady Gaga, the pop star's parents can't seem to put together a restaurant, opines the Daily News. Mediocre food made worse by heinous prices means that Joanne Trattoria amounts to nothing more than "a careless, lifeless production that feels like a weird facsimile of a restaurant rather than the real thing." One star.
Ryan Sutton runs into problem after customer service problem at Brooklyn Crab. The remote Red Hook restaurant can't match its Manhattan prices with its service or cuisine. Sutton — whose grandmother, we learn, used to serve chowder to dock workers — can't handle the extreme asymmetry, and awards only one-half of one star.
The New Yorker is taken with Mission Chinese, a "cheap and gutsy" place where "the food is the star of the show." Chef Danny Bowien "took cues from the tried-and-true tradition of greasy Chinese-American food and one-upped it for some of his best dishes." Sit down hungry (a two- or three-hour wait helps) and leave facing west.
Jay Cheshes ruminates on the necessity of good dive bars, arguing that the "average pub grub" and the glare of celebrity leave Dale Talde's Pork Slope neither a true neighborhood dive nor a reliable restaurant. "Only the pork here seems to get any real care or attention," Cheshes says. "This is a food destination only if you stick to the swine the place is named for."