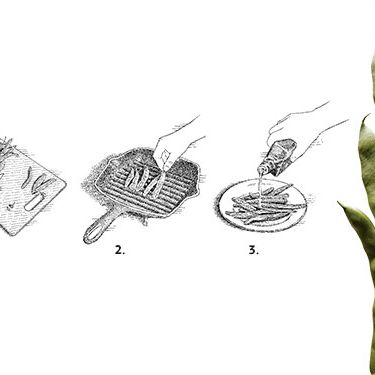 Photo: Victor Prado; Illustrations by John Burgoyne
Romano beans, the flat edible pods also known as Italian green beans, are typically cooked in sauce until fork-tender. Confronted with a bumper Lancaster County crop, Reynard chef Sean Rembold decided to take a very different approach, inspired by the simplicity of pan-fried shishito peppers. To best approximate the blackened but barely cooked effect Rembold gets from his wood-fired oven, try quickly searing the beans in a cast-iron grill pan, harnessing intense heat to take the pods from raw to charred without sacrificing their crisp texture.
Sean Rembold's Grilled Romano Beans
1 1/4 pounds Romano beans
Sea salt to taste
1 tbs. extra-virgin olive oil, plus more for finishing
Freshly ground black pepper
Pinch of ground red-chile flakes
1 lemon, for juice
1/8 pound Parmigiano-Reggiano cheese
(1) Trim the ends of the beans, and place them in a large bowl. Season with sea salt, and toss with olive oil to lightly coat. Place a grill pan over medium-high heat until hot. (2) Working in batches, cook the beans for approximately 2 minutes on each side or until just tender. To serve: Place the beans on a platter, and season to taste with sea salt, black pepper, and the red-chile flakes. (3) Squeeze the lemon and shave the cheese over the beans, and finish with a generous drizzle of olive oil. Serves 4. Adapted from Sean Rembold.