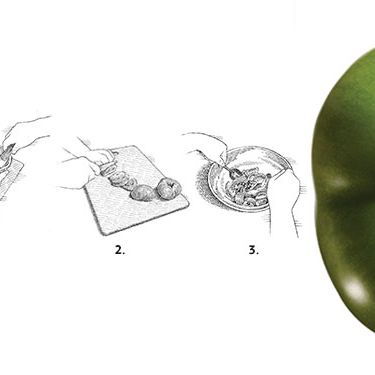 Photo: Victor Prado/Illustrations by John Burgoyne
Although it might seem slightly perverse during these still peak tomato days to recommend you find some nice hard unripened ones, that is exactly what we're doing this week. Why, you ask? Well, because of the raw-green-tomato salad that Travis Post serves as an occasional special at Yunnan Kitchen, where the chef plays up the fruit's slightly bitter flavor and crunchy texture with a piquant garlic-poppy-seed dressing. The result is cool and refreshing, full of bright citrusy notes, and, next to dredging in cornmeal and frying in oil, the best thing to ever happen to a not-ready-for-prime-time tomato.
Travis Post's Crunchy Green Tomatoes With Charred Garlic and Poppy Seeds
1 head of garlic, cloves separated with skins attached
1 fresh, long green chile, chopped into 1/2-inch pieces
1 tbs. poppy seeds
1 tsp. coriander seeds
1 tbs. minced cilantro stems
Kosher salt to taste
1 lb. green (unripened) tomatoes (available at Berried Treasures Farm and Keith's Farm at Greenmarket)
2 tsp. rice vinegar
In a small sauté pan, add the garlic cloves and cook over medium heat until lightly charred, about five minutes. Add the chile and continue to cook, pressing the chile pieces into the pan so that they blister slightly, for about two minutes. Remove garlic and chile from pan and let cool. With a mortar and pestle, grind the poppy seeds and the coriander seeds. When the garlic has cooled, remove the skins. (1) Add the garlic, chile pieces, cilantro stems, and a pinch of salt to the mortar with the poppy seeds and coriander seeds, and grind into a coarse paste. (2) Slice the tomatoes in half and then into half-moons about 1/3-inch thick. (3) Toss the tomato slices with a large spoonful of the spice paste. Add the rice vinegar, and adjust seasoning by adding more spice paste and salt to taste. Serves 4.