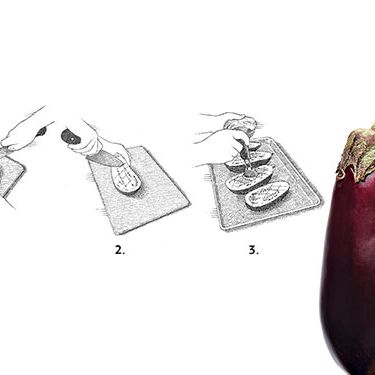 Photo: Victor Prado. Illustrations by John Burgoyne.
Local eggplant season runs right on through the fall, so you have plenty of time to enjoy the vegetable's—no, wait, we're mistaken; make that the fruit's—super-lush texture and marvel at its amazing olive-oil-absorbing abilities. Look for young specimens with smooth, tight skins and try them in this killer recipe adapted from London veggie (and fruit) gurus Yotam Ottolenghi and Sami Tamimi's new cookbook, Jerusalem (Ten Speed Press; $35).
Yotam Ottolenghi and Sami Tamimi's Roasted Eggplant With Fried Onion and Chopped Lemon
2 large eggplants (about 1 2/3 pounds)
2/3 cup olive oil
Salt and freshly ground black pepper
4 onions (about 1 1/4 pounds), thinly sliced
1 1/2 green chiles
1 1/2 tsp. ground cumin
1 tsp. sumac
1 3/4 ounces feta cheese, broken into large chunks
1 medium lemon
1 clove garlic, crushed
Preheat oven to 425. (1) Halve the eggplants lengthwise with the stems on. (2) Score the cut side of each eggplant with a crisscross pattern. (3) Brush the cut sides with 6 1/2 tablespoons of the oil and sprinkle liberally with salt and pepper. Roast on a baking sheet, cut side up, for about 45 minutes, until the flesh is golden brown. (A tip: Place a shallow pan of water at the bottom of the oven to prevent the eggplants from drying out.) While the eggplants are roasting, add the remaining oil to a large frying pan and place over high heat. Add the onions and 1/2 teaspoon salt, and cook for 8 minutes, stirring often, so that parts of the onion get dark and crisp. Seed and chop the chiles, keeping the whole chile separate from the half. Add the ground cumin, sumac, and the whole chopped chile, and cook for a further 2 minutes before adding the feta. Cook for a final minute, not stirring much, then remove from the heat. Use a small serrated knife to remove the skin and pith of the lemon. Coarsely chop the flesh, discarding the seeds, and place the flesh and any juices in a bowl with the remaining 1/2 chile and the garlic. Transfer the roasted halves to a serving dish, and spoon the lemon sauce over the flesh. Warm up the onions a little, and spoon over. Serve warm or set aside to come to room temperature. Serves 4.