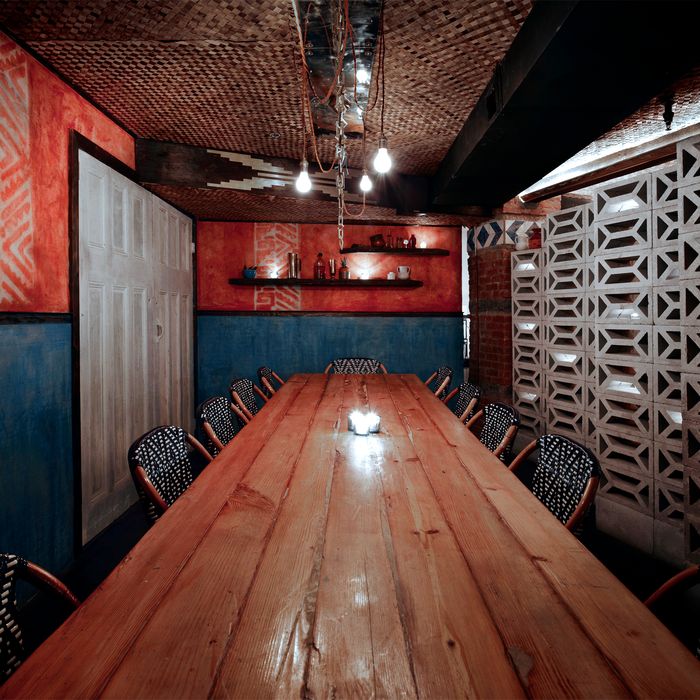 Pulqueria's sexy private table can be reserved for shindigs.
Photo: Matthias Gaggl
One of the most common questions posed to members of Grub Street's restaurant advice board editorial team is where to have a big group dinner. (We get the question at least twice a week.) And since even we are no strangers to the feeling of a looming birthday and no reservation, we decided to preemptively tackle the topic by rounding up some of our favorite restaurants for eating en masse (or at least with a dozen or so close friends). So, before you ask, here you go — and do let us know any favorites of your own in the comments.
Barbuto
Jonathan Waxman's cozy eatery isn't just suited for date night — it's good for parties of a dozen, which can dine in a private dining room, or better yet, at the chef's table in the kitchen (which seats up to fourteen). The restaurant has set menu options available for group dining.
Details: There are two seatings a night (6:30 p.m. and 9:30 p.m.) for each table, with a $65 prix fixe per person; full info here.
Colonie
The Brooklyn Heights favorite has a fourteen-seat table that can be earmarked for events. Choose from three- or four-course fixed-price, seasonally changing menus with dishes like sourdough pappardelle with sweet corn, smoked cippolinis, and pesto served family-style.
Details: Take a look at the restaurant's handy online events kit for more information.
Congee Village
The kitschy Polynesian décor at this downtown standby spells party before you even sit down. A sprawling Cantonese menu is tasty and cheap, and drinks are strong, which all adds up to a good time. There are also several reservable downstairs karaoke rooms, if that's your speed.
Details: Call to make reservations for parties of six or more; karaoke rooms have a minimum spend that varies depending on the number of people.
Fette Sau
The pleasures of gathering friends for dinner are often nearly obliterated by the headache of sorting out the check. At Fette Sau, not only are the wooden tables long, the barbecue killer, and the bourbon selection deep, but the order-at-the-counter format means the meal won't end in blows when someone objects to subsidizing the resident lush's booze bill.
Details: You can really just show up, but know that prime dining times will likely have a line.
Hill Country
Speaking of barbecue restaurants where you can dodge the hassle of splitting checks, Hill Country is another great option. And there's no need to go elsewhere for entertainment: Most nights, you can head to the basement for honky-tonk tunes after dinner.
Details: Call for reservations.
L'Artusi
Gabe Thompson and Joe Campanale's biggest restaurant is their best for accommodating groups. Reserve the wine cellar, which holds up to fourteen, or if you really have tons of friends, there's the mezzanine llevel, which can accommodate a party of 50.
Details: Visit l'Artusi's website for more information.
Mandangsui
Korea Town is a good bet, in general, for affordable meals with large numbers of friends, and we can vouch for Mandangsui, which has many long tables equipped for grill-your-own Korean barbecue.
Details: Reservations are a good idea, especially for Friday and Saturday nights; call the restaurant.
Má Pêche
Beef seven ways has been axed, but the restaurant now offers a chicken and/or lamb with rice meal for large-format dining. Fowl is fried and lamb shoulder is smoked; order one or both, and the whole shebang arrives with pita, rice, and various accoutrements and sides. (And as you've probably heard, Momofuku's other group dinners include fried chicken at Noodle Bar and Bo Ssam or rotisserie duck at Ssäm Bar.)
Details: Hit up momofuku.com for more information and to make reservations.
Pulqueria
Doyers Street's fashionable and festive Mexican lair already screams soirée, from the dressed-up staff to the feathered sconces. Luckily, there's a table that seats sixteen, with a $50-per-person prix fixe food menu.
Details: Call or e-mail pdr@pulquerianyc.com for reservations.
Randolph Beer
If you don't want to put your friends on the hook for an expensive meal, consider the Randolph's pubby spinoff. The bar-food menu (chicken wings, burgers) is well priced, with some surprisingly healthy options, including corn off the cob and a kale and grain salad.
Details: Groups of up to fourteen can choose a 7 p.m. or 9:30 p.m. seating; no fee.
Sammy's Roumanian
Why bother with dinner then dancing when you could get down in the middle of dinner, to a klezmer band no less. Maybe it's the bottles of vodka on ice in the center of the table, but Sammy's is always a party, and the Romanian-style steak is reliably tasty. If you're not celebrating anything in particular, fête vicariously through other people's birthdays and anniversaries.
Details: Call for reservations.
Tertulia
Seamus Mullen's excellent Spanish taverna is a tough door. In fact, those who hate waiting might find their best option is to go with a posse, since the restaurant only takes reservations for groups of six to twelve. A $55 menu includes a chef's choice of tapas and shareable dishes, which hopefully includes quail-egg cojonudos and a few things fired in the wood-burning oven.
Details: More information can be found here.