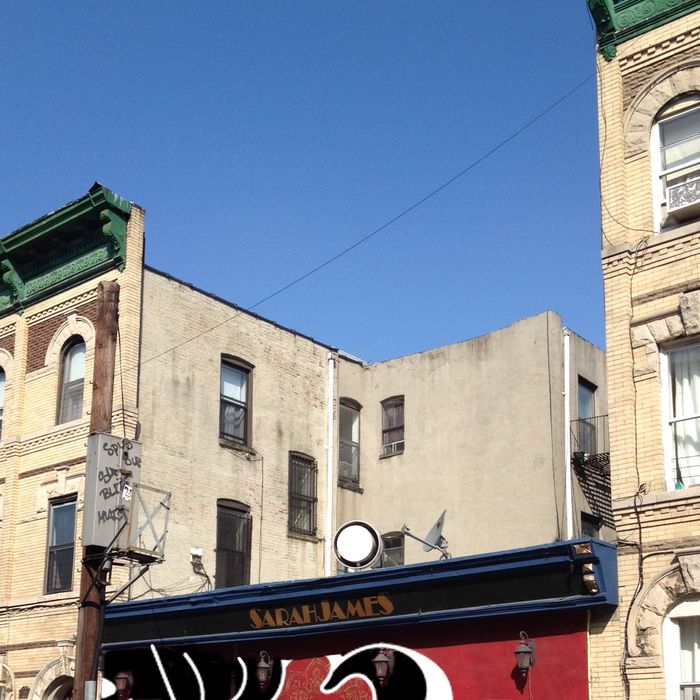 The exterior features an existing Shepard Fairey piece, with planned embellishment from Mint&Serf (shown here as a mock-up).
Photo: Courtesy Kurent Events
If you needed further proof of the gourmet-ification of Bed-Stuy, consider this event space and "private restaurant" that Gramercy Tavern alum Britt Kurent is opening at 217 Pulaski, near Throop.
Kurent has been running a catering company, Kurent Events, for the last three years (her main chefs last year were the ever-rising Battersby guys), and in searching for a place to do her cooking, she found the brick building that formerly housed Sarah James. There, she's constructing an open, airy venue that's been gutted down to the stone and brick so that "the whole room is this huge kitchen," the chef told us.
Drawing on her network of Gramercy alums and Danny Meyer–world pals, Kurent plans to hold cooking classes and ticketed dinners from the likes of Maialino's Jason Pfeiffer (where a full liquor license should come in handy). The space is also a legal commercial kitchen, which Kurent is excited about since "there's just a huge void for great rental kitchens in the city." Dinners should launch in a few weeks; keep an eye on kurentevents.com for details.