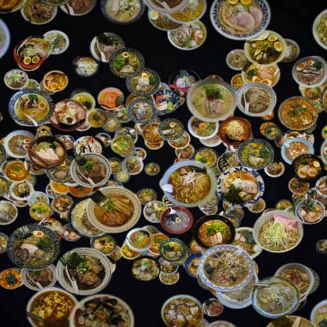 If you're excited to get geeky over pastrami, ramen, maple sugar, and more of the topics covered in this year's Food Film Festival, know that tickets for the special event are now on sale. The fest runs October 17 through 21, and special film and food extravaganzas include I , a film and chance to eat ramen from Keizo Shimamoto, who's preparing it in New York for the first time ever, and The Mud and the Blood with an all-you-can-eat oyster roast. Scope the full event lineup below.
— OFFICIAL EVENTS OF THE 2012 NYC FOOD FILM FESTIVAL —

Single MaltWhisky: The Islay 8
Wednesday Night, 10/17/12 (Opening Night Event)
Featuring the U.S. Premiere of Whisky: The Islay Edition, a tasting of whisky from all 8 distilleries on the Isle of Islay in Scotland, which is renowned for its single malt whiskies, and a special tasting menu by Chef Chris Rendell of Highlands Restaurant.
The Films: Whisky: The Islay Edition, The Benevolent Butcher: Bacon, Cook Book

Farm to Film to Table: Meat Your Butcher
Presented by Frei Brothers Winery and Bon Appétit
Thursday Night, 10/18/12, AMC Village 7 Theatres, East Village
Featuring an evening of sustainable meat Butchering and fine wine from Frei Brothers Winery, the World Premiere of Meat Hooked! by Suzanne Wasserman and the meat of Fleishers, Dickson's Farm Stand Meats and Jeffrey Ruhalter, the original butcher of Essex Street Market. With Northern Spy Food Co. and vegetarian delights by Chef Amanda Cohen of Dirt Candy.
The Films: Meat Hooked!, Farm to Table, Farmer Poet

I ♥ Japan
Friday Night, 10/19/12, AMC Village 7 Theatres, East Village
Featuring the world premieres of New York Cooks forTohoku with Chefs Boulud, Bouley, Payard, Romano, Telepan and more, and Ramen Dreams who's star, Chef Keizo Shimamoto, will cook and serve his legendary ramen in the U.S. for the 1st time ever.
The Films: New York Cooks for Tohoku, Ramen Dreams, Tako NY, Sushi: Handcrafted Happiness, Kasadela Izakaya: The House That Chicken Wings Built

Edible Adventure #005: Sweets, Meats and Fun Buns
Saturday Afternoon, 10/20/12, AMC Village 7 Theatres, East Village
Featuring Bark Dogs from Brooklyn, Hangover Buns, A Dirt Candy Surprise, Strawberry Pie and Fresh Maple Syrup Taffy!
The Films: A Taste of Home, An L.A. Pastrami Story, Artisan Baker, Bark Butter: Why Every Hot Dog Needs a Little More Pork Fat, Hangover Buns, Mexican Cuisine, Pat and Stick's Great Big Ice Cream Sandwich Adventure, Sidesaddle Kitchen: Vegan Bakery, Sugar Shack, Brooklynography: Matt & Allison Robicelli, Wooly's Ice: Pimping Out Mad Flavas of Taiwanese-Style Shaved Ice in New York City

The Food Porn* Party and Awards Ceremony
Hosted by NBC's Cat Greenleaf of Talk Stoop
Saturday Night, 10/20/12, AMC Village 7 Theatres, East Village
Featuring Extreme close-ups, Food Burlesque and more! Eat Seattle's Hand-Forged Top Pot Doughnuts, Brooklyn Star Pig Tails and more. Meet Food Porn star Larry Cauldwell and enjoy a special performance by the Sundelles.
The Films: 10,000 Cases, Bon Appetit, By the Fireside with Larry: The Zimlet, Deep-Fried Tofurky: A Thanksgiving Miracle, Dog Eats Dream, Food Porn, How to Make Vietnamese Coffee, The Benevolent Baker: Doughnuts, The Benevolent Baker: Bacon

The Lowcountry Oyster Roast (Closing Night Event)
Sunday Evening, 10/21/12, IndieScreen / Windmill Rooftop, Williamsburg
Featuring an Exclusive Screening of The Mud and The Blood and an all-you-can-eat Bulls Bay oyster roast. Charleston's own Hominy Grill + Chef Robert Stehling will round out the southern coastal feast and M Shanghai String Band will perform.
The Films: The Mud and the Blood, Mickle's Pickle, Tic Tac Toe Chicken and Mama Sugar's Sweet Potato Cobbler.


NYC FOOD FILM FESTIVAL SPONSORS
The NYC Food Film Festival is proud to announce its primary sponsors for 2012, which include Sugar in the Raw, Jarlsberg, Frei Brothers Winery, Bon Appétit, Bloomberg and Warsteiner, the exclusive imported beer of the 2012 NYC Food Film Festival. New York Mouth, the leading source for indie food and tasty gifts, is the exclusive online retailer of the 2012 Food Film Festival season and is offering a special discount of 10% off the entire mouth-watering site through the duration of the Festival - use the code 'NYCFFF10'.

NYC FOOD FILM FESTIVAL JUDGES
The NYC Food Film Festival is a competitive film festival that presents awards in seven categories: Best Feature, Best Short, Best Super-Short, Best Film Made In New York, Best Food Porn, Food Filmmaker of the Year, and the Audience Choice Award.
The Official Selections of the 2012 NYC Food Film Festival are reviewed by a judging panel comprised of members of New York City's food and film communities. The 2012 judges are: Edible's Rachel Wharton, NBC's Cat Greenleaf of Talk Stoop, Chef, TV Host and Author David Rosengarten, Lawrence Kretchmer of Bold Food, New York City Film Commissioner Katherine Oliver and Dori Begley of Magnolia Films.

THE 2012 FESTIVAL VENUES
The New York Distilling Company, 79 Leonard Street, Williamsburg, Brooklyn
AMC Village 7 Theatres, 66 3rd Avenue, East Village, Manhattan
IndieScreen / Windmill Rooftop, 285 Kent Avenue, Williamsburg, Brooklyn

ABOUT THE NYC FOOD FILM FESTIVAL
Returning to New York City for its 6th consecutiveyear offering a unique series of events where food and film lovers return to taste what they see on the screen, the NYC Food Film Festival is the only festival in the world that serves the food that is seen in the films. Produced in association with the James Beard Foundation and benefiting the Food Bank For New York City, the 2012 NYC Food Film Festival runs from October 17 throughOctober 21 in Manhattan and Brooklyn. The NYC Food Film Festival has grown from an intimate food-nerd date-night destination to one of New York City's most beloved festivals, and the largest of its kind in the world. Last year, theFood Film Festival made its 2nd trip to Chicago, where it will return this year from November 15th - 17th for the Chicago Food Film Festival. The NYC Food Film Festival was created by George Motz, the documentary filmmaker behind the award-winning Hamburger America film, book, and mobile app, and host of Travel Channel's Burger Land, along with Harry Hawk. Through documentaries, features and short films, the Festival presents the best, and the most memorable, of the world's favorite and exotic foods on the big screen…and then serves them to the guests. The NYC Food Film Festival is co-produced by Grease Bomb LLC and Food Films America.