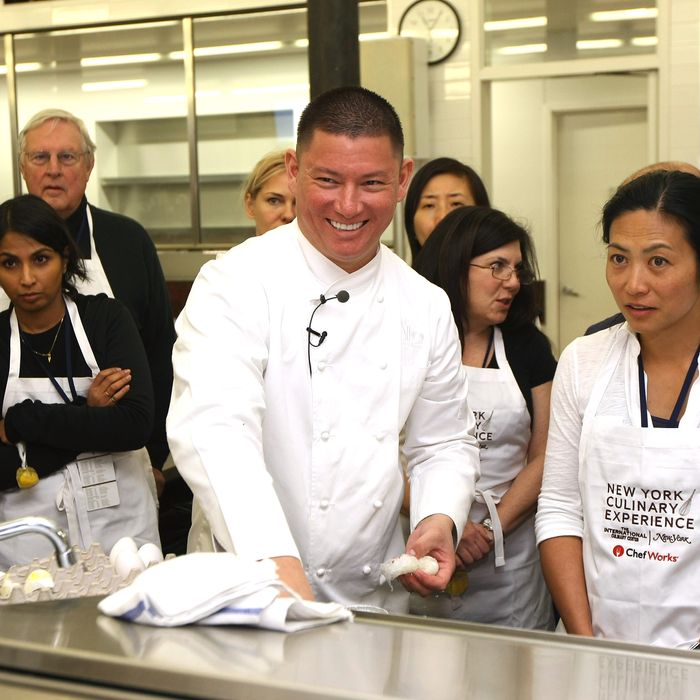 Shaun Hergatt's partners are opening the space.
Photo: Neilson Barnard/Getty Images
One of the most interesting hotel projects to come along in a while is the Quin, scheduled to open this winter at 101 West 57th Street. Check out the hotel's inspirations and the build-out, including a suite named for Georgia O'Keefe, documented on Pinterest, and it becomes clear that an ambitious project like this warrants a kitchen to match. The hotel's advance material mentions a "200-seat fine dining restaurant by Celebrated Chef with flexible private dining rooms for up to 150 guests" among its features, and then there's this, a liquor license database entry listing James Haber and Keith Treyball, of the ever-expanding ESquared Hospitality Group, as applicants for the space.
ESquared operates many concepts, including the BLT restaurants, and recently brought on the talented Shaun Hergatt, who left his namesake Broad Street SHO Shaun Hergatt restaurant earlier this summer. Hergatt has already lined up a 50-seat fine-dining place at the Chandler Hotel in Midtown East, but "the chef will also develop a number of other concepts for the ESquared group," Zagat reported earlier this month, "hitting a variety of price points."
We're wondering if the chef is also looking at Midtown West, and we'll let you know if we hear anything new.

Quin Hotel [Official Site]
Earlier: SHO Shaun Hergatt Leaving Current Space