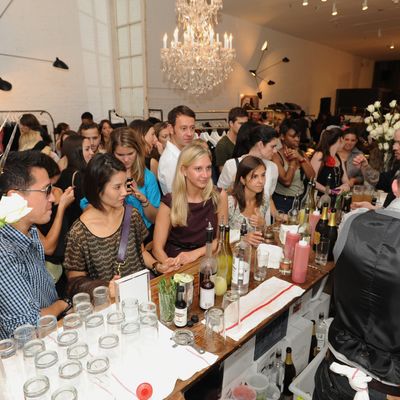 Free drinks are always in style.
Photo: Earl Gibson III/Getty Images
Tonight's Anna Wintour–created Fashion's Night Out is in its fourth year of parties, discounts, and promotions (not to mention food and drinks) to get people out and shopping. If you're into both Manolos and minestrone (or maybe fish and chips courtesy of Ted Baker London?), this is your night. Below, our rundown of chic eating and boozing events around the city.
Celebrate fashion by drinking on the cheap in the meatpacking district: Mention Fashion's Night Out for a free cocktail at neighborhood spots 675 Bar, Bill's Bar and Burger, and Dos Caminos.
Gastro Bar at 35th is offering a range of cocktails inspired by different fashion brands: The Versace, for instance, mixes tequila, triple sec, pineapple, and sage; $10 each.
If you're not really the fashion type, join Olympic gold medalist Ryan Lochte for Guys Fashion's Night Out at a new branch of high-zoot sports bar the Ainsworth, Ainsworth Park, located on Park Avenue and 18th Street. Jeah!
Japanese retail giant Uniqlo is paying homage to their home country with sake tastings and Japanese sweets at their three Manhattan locations; their parties will also feature D.J.'s and a makeup bar at the Fifth Avenue store.
Swarovski will be showing off the Yoko Ono–inspired Wish Tree collection at Café Kristall with music and champagne; a three-course dinner is $35.
Whitehall has a special Fashion's Night Out cocktail topped with an edible flower for $10.
The Americano presents the Pret-a-martini, a mixture of tequila, apricot purée, and lime juice, for $16.
Pizza Roma has a cocktail special: Chardonnay and chopped peaches on the rocks for $8.
The midtown location of Ted Baker London will bring Britain to Fifth Avenue with their Ted's Fish and Chips truck: The first 100 guests and anyone shopping at the store will get a free serving of the deep-fried British staple, while they last.
And Henri Bendel is going all out, offering cocktails prepared by bartenders from the Mulberry Project and showcasing Cirque du Soleil performers bedecked in Swarovski crystals. In addition, seven food trucks will be parked outside.
Related: What to Do on Fashion's Night Out [The Cut]
Related: Entertaining Fashion [NYM]