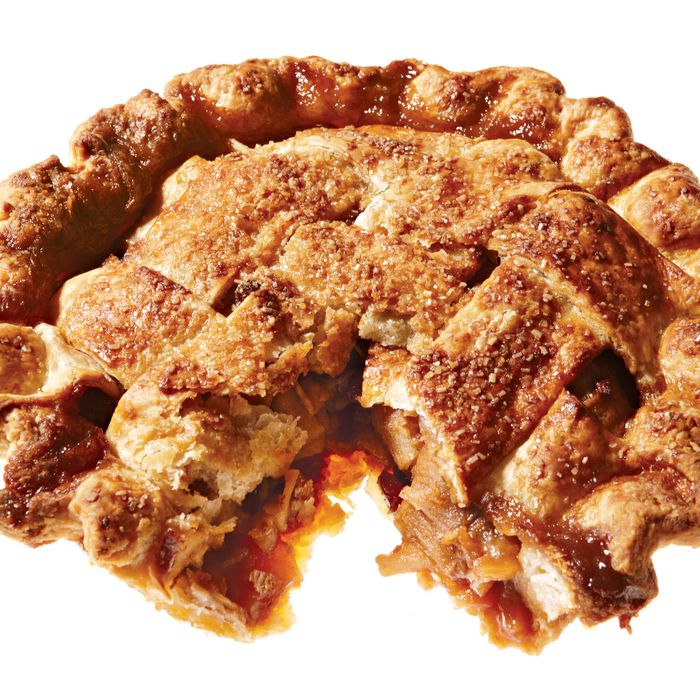 First Prize Pies' apple-cranberry at Let Us Eat Local.
Photo: Victor Prado/New York Magazine
Just in time for fall-food-festival season, a guide to navigating the tasting-plate circuit.
Cooking Light's Light Up the Night
September 21; the High Line, 16th St. at Tenth Ave.
The nutrition-minded magazine's soirée on the High Line showcases, yes, "lightened-up versions" of dishes from chefs like Dan Kluger and Michael Anthony. Consider it a nice amuse-bouche for the gut-busting festivals to follow. cookinglight.com; $100 or $150.

The Brooklyn Local
September 22; Pier 1 at Brooklyn Bridge Park
This City Harvest benefit capitalizes on the borough's booming artisanal spirit for a waterfront extravaganza. Roam the 75-vendor open-air market for bites from Bon Chovie, Court Street Grocers, and Sahadi's, or upgrade to the fifteen-restaurant tasting tent for plates from the Brooklyn Star and Tanoreen. cityharvest.org; tickets, $10 to $90, the latter including round-trip passage on the East River Ferry.
Grand Central Oyster Frenzy
September 29; Grand Central Oyster Bar, 42nd St. at Vanderbilt Ave.
See who will be crowned the 2012 world-champion oyster shucker, then enter the slurp-off and go all Diamond Jim Brady on a stack of bivalves. oysterbarny.com; admission is free.
Bubby's Pie Social
September 30; 1 Main St., nr. Plymouth St., Dumbo
This seemingly virtuous benefit for the public-school system boils down to a darn good excuse to stuff pie into your maw for three hours straight. Admission is $25 or $10 if you bake a pie. Bring Tums. bubbys.com.
Prime Meats & Frankies Oktoberfest
September 30; the garden at Frankies 457 Spuntino, 457 Court St., nr. Luquer St., Carroll Gardens
It's cold beer, hot cider, oysters, schnitzel, pretzels, sausages, a whole hog, and—who knows?—maybe the Franks in Tyrolean hats and lederhosen. frankspm.com; free admission; food tickets sold in $2 increments.
Just Food's Let Us Eat Local
October 3; the Altman Building, 135 W. 18th St., nr. Sixth Ave.
Christina Tosi and Johnny Iuzzini judge a pie contest, Blue Hill mixes apple cocktails for the VIP hour, and tasting plates come from the likes of Lot 2, Da Silvano, and Dirt Candy. justfood.org; $175 or $300.
Identità New York
October 12-14; 200 Fifth Ave., at 23rd St.
Think of this outgrowth of Milan's Identità Golose as Italy's answer to Le Fooding. Six Italian chefs team up with New York counterparts like Michael White, Alain Ducasse, and Cesare Casella for a weekend-long series of demos and dinners, intended to advance Italian gastronomy and plug regional foods. (No wonder it's at Eataly.) 212-539-0204, ext. 304, or eatalyny.com; $125 for demos; $200 for dinners.
Shacktoberfest
October 12-21; all Shake Shack locations except for those at ballparks and overseas (sorry, Dubai!)
When the Shack rolls out its special menu, it's time to channel your inner Augustus Gloop. Wash down a brat burger with an apfelstrudel shake, and save room for a ­German-chocolate concrete.
New York Taste
November 5; 269 Eleventh Ave., at 27th St.
Okay, we're biased, but this magazine's annual feeding frenzy has a stupendous restaurant lineup (Brushstroke and the NoMad, for starters) and a brand-new venue at the historic Terminal Stores. taste.nymag.com; $175 or $250.
Plus: A Day in the Country
Five tasty reasons to get out of town (or at least midtown).
September 22 and 23
Who needs Iowa when we've got Queens County Farm Museum's 30th annual county fair? Expect stiff competition in the livestock and canning events, not to mention pie-eating and corn-husking contests. 73-50 Little Neck Pkwy., Floral Park; 718-347-3276; $8, $5 ages 12 and under.
September 30
Über-realist J. Seward Johnson founded Grounds for Sculpture twenty years ago; the twelfth annual Epicurean Palette offers tastings from local chefs, cheese-makers, and chocolatiers to benefit this Mercer County art park. 18 Fairgrounds Rd., Hamilton, N.J.; 609-586-0616, ext. 242, or epicureanpalette.org; $120.
October 6
Stone Barns Center for Food & Agriculture's Harvest Fest appeals to wannabe farmers and fressers alike, with workshops, farm "Olympics," and victuals emanating from a Berkshire pig roast and the Morris Grilled Cheese Truck. 630 Bedford Rd., Pocantico Hills; 914-366-6200, or stonebarnscenter.org.; $40, $20 ages 2 to 14.
October 7
It's back to Queens County Farm Museum for its yearly Apple Festival, which celebrates the season with fresh cider, hayrides, and what is being billed as the country's largest cobbler. Free.
October 13
You've likely seen smartly packaged Crown Maple Syrup on store shelves. Now, with the grand opening of a visitors center, café, and tasting room at Madava Farms in Dutchess County, you can buy some at its point of production, and sample products made with it from Mast Brothers Chocolate and Blue Marble Ice Cream. 47 McCourt Rd., Dover Plains; 845-877-0640; free.
See Also
Le Fooding vs. Omnivore: Who Is Le Plus Brooklyn?
What You Need to Know About the 2012 New York City Wine & Food Festival