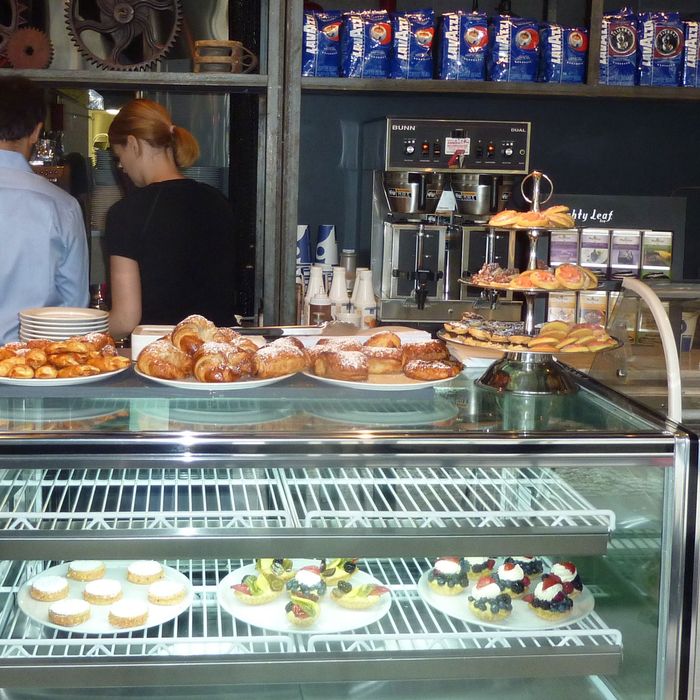 Williamsburg's newest Italian restaurant is now open, sort of. Fabbrica, a café-bakery, pastry shop, and eventual full-service Italian restaurant is now offering baked goods, espresso, and sandwiches until the kitchen's imminent opening. There's no set date for the full rollout, but owner Alberto Baudo (who also has Acqua at Peck Slip) hopes it will be in the next week or two. Until construction is finished on the open kitchen, patrons can enjoy an espresso and an assortment of sweets from pastry chef Mirco Del Cecchio — formerly of Balthazar — under the dining room's seventeen-foot ceilings.
Fabbrica, which means factory in Italian, pays homage to Brooklyn's manufacturing years with an ironclad exterior, a bar decorated with old gears, large wooden communal tables, and a painted Williamsburg Bridge and Domino Sugar factory mural spanning the length of the back wall.
The menu isn't final, but with executive chef Simone Bonelli — formerly of Modena, Italy's three Michelin-starred Osteria Francescana — leading the kitchen, it promises to feature fresh, innovative Italian cuisine.
Fabbrica, 40 N. 6th St., at Kent Ave.; 718-218-7045