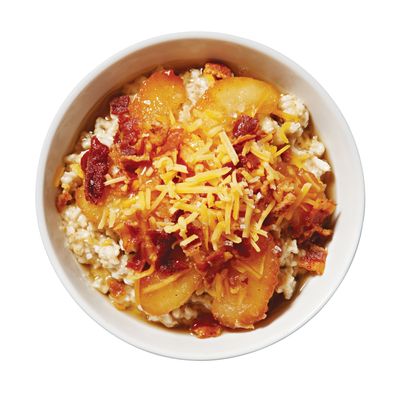 Photo: Victor Prado/New York Magazine
Even in a foodscape dotted with pudding parlors and mac-and-cheeseries, one doesn't expect to come across a venue as thoroughly and obsessively devoted to a single substance as OatMeals. (There is a precedent, though: The Stoats Porridge Bar, a Scottish oatmeal-mobile of sorts, first rolled into Edinburgh farmers' markets seven years ago.) This past summer, with the unfortunate timing of a gelateria that launches during a blizzard, OatMeals owner Samantha Stephens unleashed her playful paean to the famously healthy grain in a small shop on West 3rd Street, where she tops a hearty blend of steel-cut and stone-ground oats with add-ons like bacon, pumpkin, ­Parmigiano-Reggiano, and extra-virgin olive oil, as if her métier were salad, not cereal. This is not as outlandish as it sounds. Recently, there's been a growing interest in oatmeal's savory side (think congee), coupled with the notion that combining the super-grain with fat and protein renders it healthier still. Another welcome development: chefs' desire to source locally grown, high-quality groats, or whole hulled oats, and to treat the cooked cereal as a blank canvas for bold and sumptuous flavors rather than spa food. Oatmeal might not have an official season, but it has a psychic one, and now that our heat wave of a summer is over and a chill is in the air, breakfasters' thoughts turn to the pot on the stove or the bowl on the menu. Click through our slideshow to see some of New York's best.
Know Your Oats:
Groats or hulled whole oats: most nutritious, but need to be soaked and cooked for a long time.
Steel-cut, a.k.a. Scottish, a.k.a. Irish: groats cut into pieces; they make for a chewy, more flavorful oatmeal than rolled oats.
Rolled or Old-fashioned: groats that are flattened by a giant roller to allow for a short cooking time.
Quick-cooking: groats that have been sliced into pieces before being rolled for an even faster cooking time.
Instant: precooked, dried, cut, then rolled.
*This article originally appeared in the October 8, 2012 issue of New York Magazine.