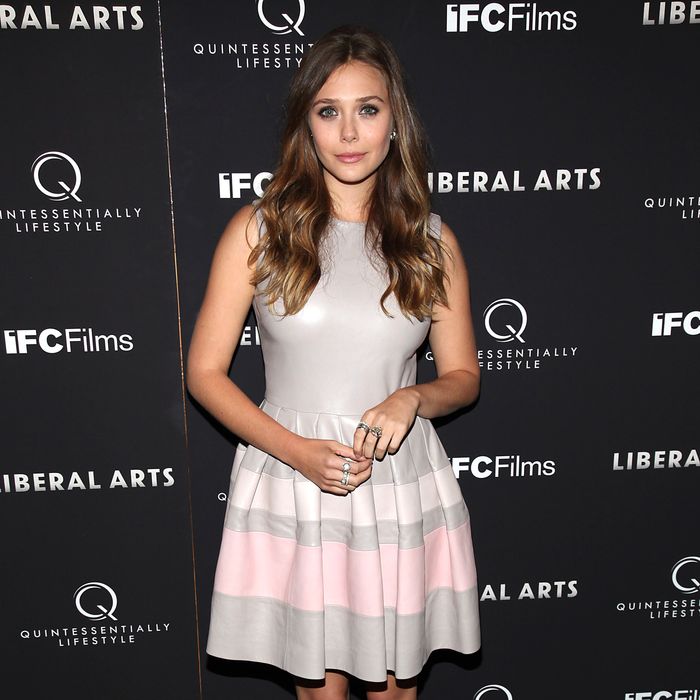 Olsen at last night's premiere.
Photo: Rob Kim/Getty Images
Actress Elizabeth Olsen is probably best known for her breakout role in Martha Marcy May Marlene, but in the year since the movie blew up and made people realize she's more than just the other Olsen sister, we've also learned that Olsen is one of the biggest food-loving celebrities in the city. So, when we spoke with her at last night's premiere for her latest film, Liberal Arts, we asked her if it's gotten any easier to snag a reservation and if she'd ever take a cue from other actors (like Channing Tatum) and get into the restaurant biz herself.
So, I saw the thing you did with Alyssa Shelasky about how you don't usually use your name to get reservations.
Oh, I just hope that they'll call me back and I'll get the reservation I want. Normally, I get, "We have a waiting list," and I go, "That's cool!" But maybe if I give my name, you'll get me in. It actually only works at one restaurant, Il Buco, because they know me there, not for any other reason.
I try to be a regular there, very hard. Anywhere you're a regular, they'll make accommodations for you. It's one of the perks of living in New York, to get your spot.
Would you ever consider investing in a restaurant?
Yeah, I would do that in a heartbeat. I actually have a few friends who work in restaurants right now, and I can't actually invest in it, but they use me as someone to look at a menu, because they know I look at every restaurant's menu in my free time. So they'll ask me what I think they should change or whatever, so I feel like I'm contributing in that department. I could put that on my résumé.