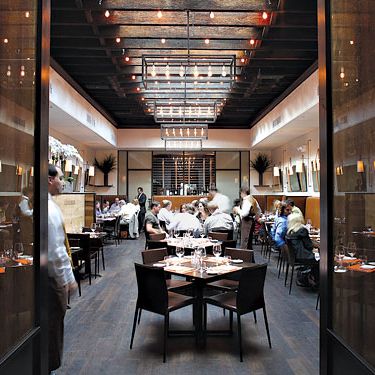 Go vegetarian at Scarpetta.
Photo: Noah Sheldon/New York Magazine
As always, we kick off the week with Eat Well, our guide to great food that isn't totally terrible for your well being. This week brings us Scarpetta's vegetarian menu, the early details on an awesome one-off family-style meal at Court St. Grocers, healthy drinks, and lots, lots more. Keep on reading to see where to find it.
Monday, September 24: Scarpetta's Veggies
Amazingly, it's still hard to find an NYC chef who gives equal love to his vegetables as he does to his meats and starches, so Scott Conant gets big props for introducing an all-vegetarian menu at Scarpetta. With hearty dishes like rosemary-braised lentils and vegetables, and farro risotto to choose from, you won't even realize it's missing meat.
Tuesday, September 25: Food Science at Rouge Tomate
Food synergy: It's the idea that pairing foods strategically results in ultimate health benefits (e.g., beans and rice make a complete protein; tomatoes with olive oil makes for maximum nutrient absorption). That's one of the guiding principles at local, seasonal Rouge Tomate, where everything on the menu is deceptively healthy.
Wednesday, September 26: Healthy Drinks the Beagle
Sherry, the fortified, oxidized wine that's been making somewhat of a comeback lately, is good for your heart. It seems that the palomino grape from whence it comes has compounds that help out with your cholesterol ratios (raising the good, lowering the bad — you know the deal). Try a glass at the Beagle, which has a wide array of the stuff, plus a fun diagram of sherry's flavor spectrum on their menu.
Thursday, September 27: Inspired Raw Fish in Soho
The new restaurant at the Mondrian Soho, Isola Trattoria & Crudo Bar, is an omega-3 party. Do your cardiovascular system a favor and make a meal of fluke, Meyer lemon, and olive oil, snapper with cantaloupe and fuji apple, and other choices from the crudo menu.
Friday, September 28: Friday Night Dinner at Court St. Grocers
Every Friday, this charming Cobble Hill specialty foods shop serves a killer meal. You normally have to pay attention to their Twitter feed to find out last minute what's on offer, but Eat Well's got your back: This week's menu features humanely raised, antibiotic-free roasted pork shoulder from Heritage USA; black-eyed peas; collards; and macaroni and cheese. Not health food by any stretch, but good-quality, ethically sourced, cozy food — like going home but tastier.
Kate Lowenstein is the senior features editor at Health Magazine.