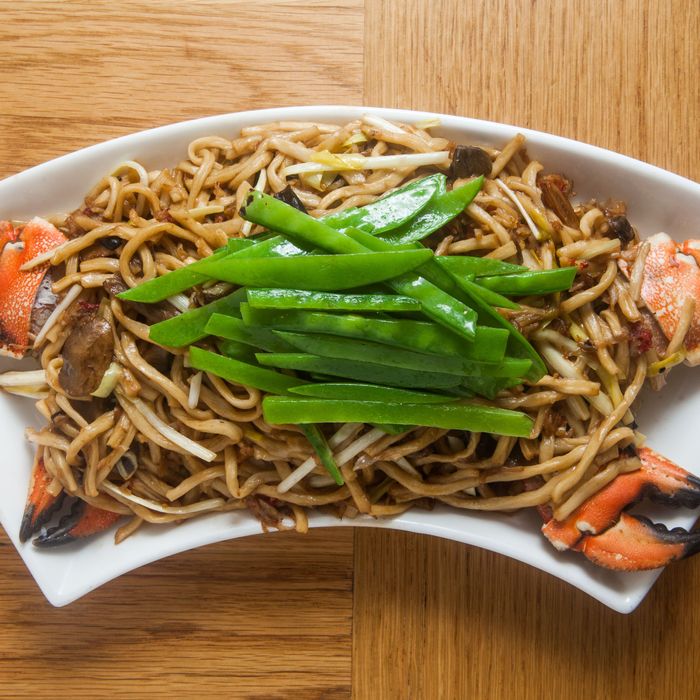 The Long Life Noodles at RedFarm.
Photo: Jed Egan
If it's Monday morning, it means it's time to look at all the healthy, satisfying food that's available around town this week. Today brings us news of coffee's many, many wellness-boosting properties; creamy goat-cheese ricotta; a "farm-to-fire" dinner series that benefits both diners and upstate farmer; and more. Here's where to find it this week:
Monday, September 10: Eat for a long life at RedFarm
Order the Long Life Noodles at Village hot spot RedFarm, and you'll get a hefty dose of essential vitamin B12 and immunity-boosting selenium from sweet Dungeness crab meat that comes with it. (Add a side of garlic-sautéed snow pea leaves for fiber and antioxidants.)
Tuesday, September 11: Barrio 47's Farm to Fire series  
Every Tuesday, the kitchen at Barrio 47 turns out local cuts of meat or fish cooked in the brick oven and served alongside a choice of patatas bravas or arroz verde and green asparagus or crispy zucchini. Tonight: organic, antibiotic- and hormone-free sirloin steak from Wrighteous Organics farm upstate.
Wednesday, September 12: Feel good about your coffee addiction
People who drink coffee live longer than those who don't. They also have lower rates of diabetes, depression, and Alzheimer's. But if waiting in the always-long line at Stumptown raises your blood pressure, try the nearby Birch Coffee, where you can get brew that's just as serious.
Thursday, September 13: Magical cheese at Ardesia
The mild, creamy goat-milk ricotta at Saxelby, served on crostini) is both lower in calories and fat, and easier to digest, than cheese made with cow's milk — and frankly, it tastes so good that it'd be worth eating even if you didn't have any health excuse at all.
Friday, September 14: Arctic Char at Acme
Aren't you sick of hearing how good salmon is for you? We are. That's why we jump at the chance to eat arctic char, a more sustainable fish with a similar flavor, fewer environmental contaminants, and all the heart-healthy omega-3s you could ever want. Try the extraordinarly crispy-skinned version at Acme.
Kate Lowenstein is the senior features editor at Health Magazine.