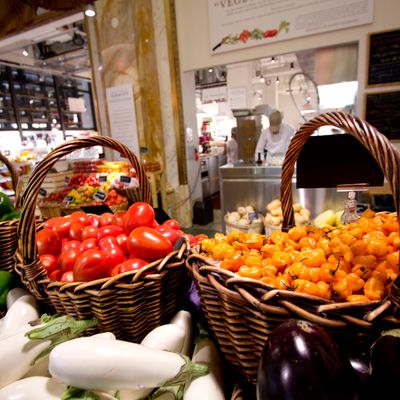 Eataly's fruit and vegetables, front and center.
Photo: Anders Carlsson/Flickr
As we kick off the shortened work week (and come to terms with the fact that summer is sort of over), it's time for Eat Well, Grub Street's guide to satisfying, wholesome food around town. This week brings us a new way to break the humdrum of lunch, fries that we can feel good about, and more. Here's where to find everything:
Tuesday, September 4: Load Up on Veggies at Eataly
As the hordes of summer tourists at Eataly begin to thin, take the opportunity to hit up its Le Verdure restaurant. Look for dishes like grilled escarole dotted with pine nuts and currants, rustic polenta with maitake mushrooms and local corn, and housemade egg-pasta cannelloni filled with spinach and local ricotta.
Wednesday, September 5: A Midtown Lunch Switcheroo
The Cafe Europa–Pret–Au Bon Pain grab-and-go midday meal can get depressing. If you work in midtown, pop in to Remi To Go (the affordable satellite of the more buttoned-up Remi), a more delicious — and just as quick — alternative. The menu changes regularly, but expect such refined, nutrient-dense dishes as beet and haricot verts salad, cous cous with vegetables, and excellent pureed soups.
Thursday, September 6: Left Bank's Market Menu
If you've passed through a farmer's market lately, you know that it's harvest boom time right about now. Hence the Market Bounty $35 prix fixe menu at Left Bank: three courses that vary by the day depending on the greenmarket haul. A taste of last week's options: burrata and grilled peaches; fried calamari salad; and heirloom zucchini with almond-basil pesto.
Friday, September 7: Eat Fries, Feel Good About It
There's nothing diet-y about the golden chunks of fried yucca from Empanada Mama, but you can assuage your guilt knowing that the starchy root has impressive anti-inflammatory properties (it's used to treat both arthritis and stomach problems), and that the guacamole you're housing along with it is packed with heart- and brain-boosting omega-3 fats.
Kate Lowenstein is the senior features editor at Health Magazine.