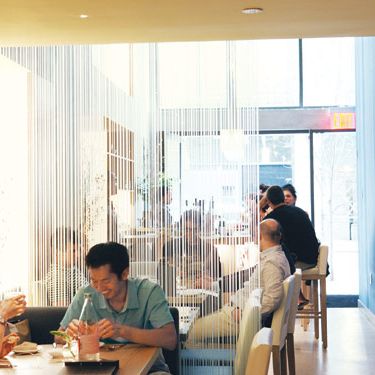 Aldea's lovely lunchtime service.
Photo: Hannah Whitaker/New York Magazine
Can you feel autumn creeping into the weather? Luckily, the fall is a great time for virtuous eating — even if it does mean we'll have to say good-bye to things like ripe, flavorful tomatoes for another year (get them while you still can!). As we do every Monday, let's take a look at where to find the best healthy eats in town. This week, we've got tofu subs, antioxidant-heavy soba, an affordable take on high-end Greek, and more. Here's where to find it all:
Monday, September 17: Treat yourself at Aldea
George Mendes clearly has our health in mind: The three-course lunch menu at Aldea is a local-vegetable fest punctuated with chicken, skate, or farro risotto. We'd especially recommend hoarding some summery tomato and strawberry gazpacho before it's gone for the year.
Tuesday, September 18: Healthy Noodles at Talde
There's little that's health-food-ish about Talde (just check out how chef Dale Talde eats), but if you order the soba dish with vegetables, dashi, and black sesame, you can rest assured that you're getting a hefty antioxidant boost. Add the whole fish with turmeric (an anti-inflammatory) and the kale salad (duh).
Wednesday, September 19: Tofu for Meat-Eaters
If you're no bean-curd fan, the coriander-crusted tofu at Fort Greene's No. 7 is a great place to start: The heart-healthy soy protein comes heavily ensconced in distractingly delicious flavors and is served atop a nutrient-rich corn, mushroom, and lima bean succotash.
Thursday, September 20: Mediterranean Diet at Molyvos
You may have heard the to-do about the Mediterranean diet in recent years: Essentially, if you eat a ton of fruit, vegetables, fish, wine, and olive oil, you'll live forever. (More or less.) Get started on that with the September in Santorini menu at Molyvos, where $60 gets you four courses of Greek food (stuffed eggplant, grilled wild prawns, zucchini fritters …) plus half a bottle of wine from one of the island's oldest vineyards.
Friday, September 21: Bento Box Lunch
The part of you that misses a mom-packed lunch box might enjoy this: Japanese gastropub Family Recipe is doing takeout and delivery midday bento boxes on Tuesdays and Fridays. You can get an updated menu and order here; expect multigrain rice, vegan options, and general mom-approved wholesomeness.
Kate Lowenstein is the senior features editor at Health Magazine.