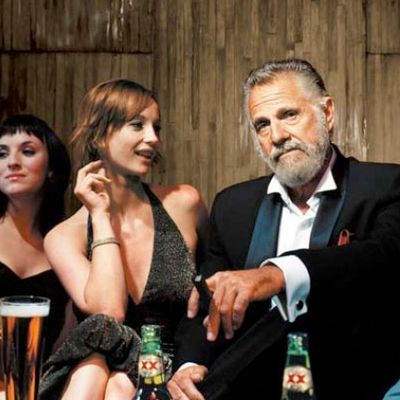 Getting political.
Photo: Dos Equis
Jonathan Goldsmith, the actor who plays the Most Interesting Man in the World in those Dos Equis ads, is hosting a Democratic fund-raiser tonight in Vermont and, as you might guess, that doesn't sit well with consumers who are loyal to both Dos Esquis and the Republican party.
According to Ad Age, news of Goldsmith's plans has triggered a slew of negative comments on the Dos Equis Facebook page. Just one example: "No longer can I rant and rave about how great your beer is and how funny and neat your commercials are. They both SUCK now that you want to endorse one of the biggest IDIOTS in history."
Anyway, Heineken USA, which imports Dos Equis, wants people to know that they've got nothing to do with this, okay? But since Goldsmith is hosting the fund-raiser as a citizen, the company can't really stop him either.
President Obama, for what it's worth, will be in New York tonight at his own fund-raiser being put on by Jay-Z and Beyoncé at the 40/40 Club, which means Republican supporters of HOVA, or his Armand de Brignac Champagne brand, should probably also start becoming furious. So far, though, that Facebook page looks pretty clean.
Most Interesting Man's Obama Endorsement Not Sitting Well With Some [AdAge via the Daily Meal]