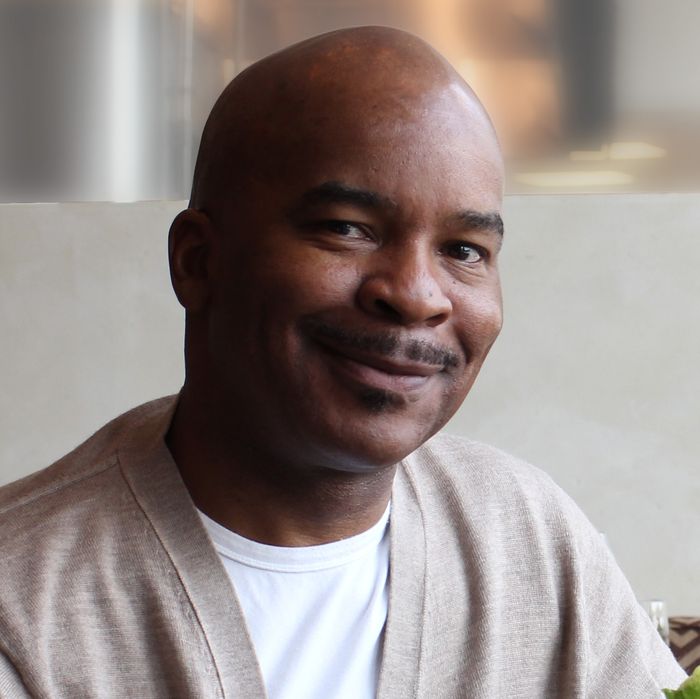 DAG at A Voce's Columbus Circle location.
Photo: Melissa Hom
David Alan Grier has had plenty of roles, but he's primarily known for two: In Living Color and his Tony-nominated run in The Gershwins' Porgy and Bess, which closes on Broadway this week. But Internet food fans might also know him as the enthusiastic writer behind the food blog Chocolate Glutton, where he chronicles cooking projects like smoking his own bacon and cooking short ribs sous-vide. He credits his cooking skills to cookbooks and a girl he dated in graduate school at Yale, a "real cook" who would enlist his help in trying out recipes from Gourmet. "Before that I was like most people, thinking, I could never make a dish in Gourmet magazine. She really turned me on to the possibility that I could cook." See what dishes a busy Broadway actor whips up in this week's New York Diet.
Friday, September 14

Fridays all day I have free before my show at night, and I wanted to make duck confit. I picked up the duck — which I ordered from Hudson Valley — on Thursday, then salted it, seasoned it, trimmed it, and put it away. I also ordered duck fat that was rendered, but there wasn't enough. I had six duck legs but not enough duck fat. I tried Whole Foods first for more, but they didn't have it. I knew I could get it at Dean & Deluca, but it would be, like, the price of gold. So I called Giovanni Espositos, which is my favorite butcher in Manhattan, and they had duck fat but unrendered. I've never rendered fat before, but I had all day, so I told them how many legs I had and I said, "Look, I need about eight cups or something." He said, "You need about nine pounds." So I took nine pounds of duck fat home, cubed it, and rendered the fat, strained it, and it was awesome. I had to do all of that on Thursday, before I could cook the duck.
On Friday morning, I got up at six in the morning and put everything in the oven to cook for about six hours, right up until I went to theater. I had my usual breakfast of coffee, Greek yogurt — this very rich brand that my daughter likes, called Fage — and fruit. I take my coffee black with Splenda. Also, I gotta make my own coffee.
If I'm cooking, I just do lunch on the fly: That day, it was sautéed really thick, really huge soy bean sprouts from Whole Foods, with some marinated tofu. Then I went to work.
After the show, I went to Bar Centrale and tried not to go crazy, eating raw vegetables and hummus and fish tacos. If I ate everything I wanted, I'd blow up.
Saturday, September 15
I have two shows on Saturday, and usually it goes like this: I always plan big things; I never get them done, because that would require getting out of bed early. I usually text my good friend in the cast, Allison, and we talk a lot of shit on text. "Oh, what are you doing?" "I'm running errands." "Are you up already?" "I'm just getting out." Then, half an hour later: "Did you get up yet?" "No, I'm still in bed."
So, honestly, I got up around eleven, had some yogurt and coffee at home, then played some video poker. Before the first show, I ate some baby kale that I sautéed with garlic. I've been vibing on this kale for a month and a half. I had it just so I'd have something in my stomach before I went to the theater.
When we started this run, I would try to get to the theater an hour to an hour and a half before a show. But now I have it timed: It takes me seven and a half minutes to walk there from my apartment.
For dinner, I pan roasted a bluefish that my driver, Jim, gave me. He's a fisherman. When I was at school in Connecticut, I remembered bluefish season. I hadn't had it in a while because I've been living out West for years. One day, he said, "The bluefish are just starting to run, do you want me to bring you some?" And I said yeah! But I'd never cooked it. So I went online and read, and there was just account after account of these women saying, "My husband is a fisherman, he brings home bluefish, and I don't know how to cook it. It's too fishy. What do I do with this?" And that's not how I remembered it! I remembered liking it. So he brought me some, and I marinated it in olive oil, garlic, salt, and pepper. It's fine. Sometimes I feel like people have such bland tastes and that must have been what was wrong with these women.
Sunday, September 16
Sunday's show is the final show of the week. It's a 3 p.m. show, which means I got out at six. I had a light breakfast and a light lunch because dinner was one I'd been looking forward to all week: NoMad.
Our reservation was around 8:45 p.m., which meant we had to occupy ourselves until then. We had drinks at this really cool speakeasylike place, Raines Law Room. It's quiet, adults are there, there's no loud D.J. or anything like that. I had a dirty martini, straight up: vodka, not gin. I can't stand gin. Before we knew it, it was time to go.
At the restaurant, we got a bottle of wine — I don't remember what, because it was all about the food. My friend Shirley got this broccoli cooked five ways that was beautiful. I don't care if the food looks like a sculpture if it doesn't taste good. This was just wonderful. I got these scallops with corn, and we just killed it. It was really, really delicious. Great meal, great service, and it wasn't crazy.
There are some places in New York that everybody tries to get in to: They're too loud, they're too this, but you gotta get in because that's the restaurant of the moment. I don't know, but I wanna go back to NoMad.
Monday, September 17
The best breakfast would be if I cooked dinner with friends and took the leftovers of, say, a posole that I made a while ago, or short ribs and polenta, then reheat that, then sprinkle some artisan cheese on and poach two eggs and put that on top. But that type of breakfast is rare. Monday's was coffee, yogurt, and oatmeal.
I went to A Voce for an early lunch. I love any excuse to eat there. I had some pasta. Oh my God. The pasta was crazy. They were shaped like big coins with diced speck and crabmeat in a butter sauce — I'd never eaten it there before, and it was amazing.
Then my friend Kari and I went to the Jack Shainman Gallery, which was closed, but they let me in to see the new show by this artist who I collect called Linette Yiadom-Boakye. She does portraiture, but really big paintings, almost life-size.
Near the gallery was the Comme des Garçons store. I bought this huge, this cubic zirconia Champion ring because it's the only thing that fits me at Comme des Garçons. I'm not a jewelry-wearer, but that looked like a lot of fun. I tried to get Kari to try on these really big balloon, velvety pants so I could take a picture of her, but she wouldn't let me make fun of her.
For my second lunch, we went to Cookshop, and I had a chicken salad, but the chicken salad they do is like a quarter of a chicken, crispy skin, on a bed of greens, with a pesto dressing. I had that with a really dry white wine.
Then we went to see The Master. I think Paul Thomas Anderson's a genius. We went to Fiorello's for dinner; I had a really thick-crust pizza with lamb sausage on it. She's a vegetarian, so she had a salad. Then we talked about the movie, and she told me how much she hated it. But I loved it.
Tuesday, September 18
Coffee, yogurt, and bowl of oatmeal. Tuesday was spent recovering from Monday.
An old friend once came to the show, and I hadn't seen her in like twenty years, and the first thing she said was "David, do you remember when you boned a duck and stuffed it with couscous and truffles?" So this has gotta be 1986 or something like that, and my mouth popped open, and I just burst out laughing because I remember making that; also, that was the most difficult thing I'd ever done, and I'd just started cooking. At the time, I was reading The Picayune's Creole Cook Book; it was a reprint, because it's a very old cookbook. One of the recipes in it was you had to bone a chicken then stuff it, and I did it with duck. To bone this duck — it took forever.
In and out with my relationship with food was always that long, involved, slow cooking — that's the dish that always turns me on. I started my blog not because I was selling a cookbook, but because it's a genuine interest of mine.
During the week, a lot of times, because I'm so busy, I'm a creature of habit. Usually I'll roast a chicken and deglaze the pan with a dry white wine, make a rich gravy, and serve that with brown rice (my 4-year-old daughter loves this). I eat the chicken with a salad or over sautéed vegetables, freeze the rest, and nibble throughout the week. I did that on Tuesday, before the show.
Wednesday, September 19
Coffee, yogurt, and fresh fruit. I have two shows on Wednesday.
I'm moving back to L.A. next week, so I did some packing. The last thing I gotta pack is my kitchen stuff. I bought too much stuff. Like, I got this tiny Cuisinart, and then I got this really tiny hand mixer. And I got this huge stock pot and a cast-iron Dutch oven. I could put it in storage, you know, where you buy them for hundreds of dollars, store them for thousands, and never use them.
Also, I have to overnight the duck confit to myself, because the whole point is to let it age. It'll be perfect come Halloween.
Lunch was a salad of baby kale, vinaigrette dressing, sprinkled with fresh shaved Parmesan cheese, half eaten before the matinee, half after. It was our last Wednesday for the show. It's getting emotional, but it's really fun. But it's also really exhausting.