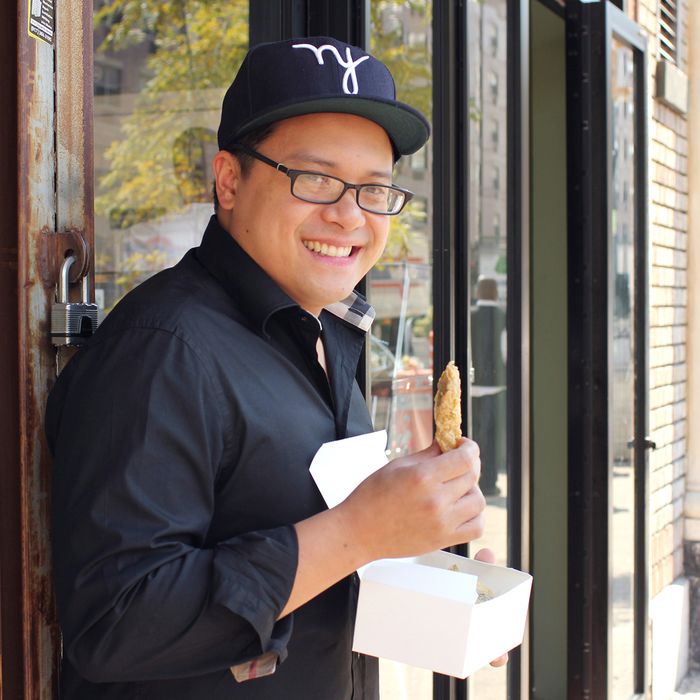 "I looked closer and realized it was hot dogs."
Photo: Melissa Hom
Even though Dale Talde's brand-new restaurant Pork Slope is, by all accounts, a hit, the chef says he can't rest easy just yet. "I get paranoid," he says. "If people say the food is good, then I'm like, They didn't think the food was great. Something's wrong." So, he says, he's constantly conducting tastings at both his new restaurant and Talde. "It gets a little gross," he admits before reconsidering: "It gets really gross." Not the food itself, just "the combinations of shit that you end up eating." But don't think he's reconsidering his position or won't open another restaurant. "It's hard work, and it's incredibly rewarding," he says. "But man, after you open a restaurant, you realize you're two full pant sizes up and you look like you got stung by a hive of bees." So he tries to temper the professional glutton with impromptu juice cleansing, egg-white wraps, and lots and lots of bike riding. Read it all straight ahead in this week's New York Diet.
Friday, September 7
I biked over to Pork Slope, and they were making breakfast. At first it looked like a plate of scrambled eggs and sausage, but I looked closer and realized it was hot dogs. They made a hot-dog omelette, and they weren't minced hot dogs so you couldn't tell what they were. They were an inch and a half, two inches long. Big pieces of hot dog, which, at first, I was repulsed by. But then I looked at it and said, Well, what the fuck? So I had some of it. It was actually a nicely made omelette — a little onion, some tomato, and some hot dogs. But I realized that if that's how my day was starting, it was probably going to be a downward spiral from there. I knew there was going to be a ton of crap to eat that day.
This is gonna be fucked up because this whole week is going to seem like a Red Bull commercial, but I had a Red Bull then went to Talde.
We're changing the menu there and part of it is that we want to improve the dessert program because we only have one dessert, and you either love it or you hate it. It's shaved ice with Cap'n Crunch and candied coconut and some fresh fruit. It's kind of wacky. But, for the most part, if you have smoked marijuana, you probably like the dessert. So with the menu change, we're adding chocolate pudding, and when I got to Talde, I had four quarts of different pudding recipes waiting for me. So I ate probably eight spoons of pudding because I ate them all once, then ate them all again to make sure I really liked the one I thought I did. It also has a peanut-butter Rice Krispy treat with bacon in it, and we were going to top the whole dessert with sliced bananas — kind of this ode to Elvis thing. I really wanted to like it, but it sucked. We plated it, and it was kind of a mess, so we said fuck it and put the Rice Krispy treats out for family meal.
At this point, it was one in the afternoon and I just didn't feel good. At family meal, I thought something savory might balance out what was happening in my body, so I tried to muscle down some chicken curry but it wasn't happening, and I realized I just had to get out of there.
I went back to Pork Slope, and my business partner John and his buddy Roy were eating there. I tell everyone who works there that if they're going to eat there, they have to be honest about it and tell us what you think of the food, whether it's over-salted or this or that, so we can stay on top of things. So, John and Roy ordered half the menu: chicken, Italian beef, a burger, pulled pork, half rack of ribs, tater tots, onion strings, and the chili. And I sat down and ate the whole thing with them. And really, at this point, I did not feel well, so I thought a little Fernet might be the cure-all, so I drank a couple of glasses. It really helps.
Saturday, September 8
I woke up and went to Starbucks and got a large iced coffee. My girlfriend got a bagel from La Bagel Delight, so I had my coffee and a few bites of her bagel.
I biked to Pork Slope, talked to my chefs, and got one of those Muscle Milks, then biked to Talde where we had a really great brunch. As food was coming through the pass, I was tasting, getting pieces of it: fried rice, calamari, and some chilaquiles — one of my favorite things to eat ever.
Before the service at night, I sat down and wrote out our new menu, then biked back to Pork Slope. There's a real great crepe place in the neighborhood, and they do smoothies and juices and stuff. After all the protein and fried stuff that I have to eat on a daily basis opening a bar-driven restaurant that serves burgers and beef sandwiches and hot dogs, I just need to fucking cleanse every once in a while, so I slammed two of whatever their green thing is, like kale and celery and all that.
When I got home after service, my girlfriend was still up, so we ordered from this pizzeria, Layla Jones. They do a good job. I ordered spaghetti and meatballs; we shared a small pie and a Caesar salad, kind of my go-to.
Sunday, September 9
First day of football — I was a little excited.
Mile End is right down the street from where we live, so I walked there and ordered two iced coffees and a bagel for my girlfriend. We're friends with the staff, so we ordered and waited, but then a big bag came out with, like, poutine, smoked meat, and coleslaw. I was like, Oh my God, but I just said thank you. We took it back to the apartment, and I still wasn't hungry, but when something like that is sitting in front of you, you're just going to eat it. The Bears game was on and, you know, three hours later, the food just slowly disappeared. I don't know what they do with the fries, but they are amazing.
But I felt like a gross fat pig after that, so my girlfriend and I jumped on our bikes and rode to Prospect Park and did a couple laps and rode back.
For dinner, we ordered from this izakaya on Smith near here. This was the first time we'd ordered from there, but I liked it because I could get grilled mackerel, which is one of my favorite fish. I got a rice ball with spicy cod roe and a seaweed salad. It was generic and kind of trashy, but I loved it.
Monday, September 10
This was a weird day because we did an event with Bon Appétit that night. I wanted to really try and be healthy in the morning. I had the Red Bull and a couple handfuls of the dried blueberry cereal my girlfriend buys and ran from my house to Pork Slope, then proceeded to munch my way through stuff that was there.
I went to Talde later, and there were some guys who were just starting out on the line, so I tasted some stuff they were prepping. Touched base with my chef and ran back to my house. There's a bodega underneath us, so I got an egg white and turkey bacon on a wrap, with extra ketchup. And it was really bad, but what can you expect?
I went back to Talde and started prepping for our party. I had a bowl of some kind of chicken stir-fry with rice for family meal, then I left for the event. It was cool, super-nice people there. It was a birthday party for a fashion designer named Chris Benz, and they got a cake from Milk Bar. They asked me to cut it, but there were like 125 people there and it turned into a madhouse, people bum-rushing me for cake, so I put the knife down and got outta there. I was able to get a piece for my chef de cuisine: It was delicious.
From there, I went to Talde, jumped on my bike, and rode home. Dipped a couple pita chips in some hummus, watched some SportsCenter, then went to bed.
Tuesday, September 11
Tuesday was … not a good eating day. I woke up and had a massive headache, so I popped two Advil and drank a Red Bull and didn't eat breakfast. Rode to Pork Slope and tasted some things there, spent the majority of my day eating there: homemade onion dip, pulled pork, a piece of chicken. The reality of opening a bar that has this kind of food is that I love it, but it's dangerous because I just eat it all.
I didn't eat again until nine o'clock when I started to get hungry. I grabbed a Muscle Milk from the bodega next door, then went home and my girlfriend had gotten me a turkey sandwich from Garden of Eden. That's all I ate.
Wednesday, September 12
Red Bull and some blueberry cereal.
For lunch that day, my sous-chef made chicken with salsa verde and yellow rice. Yellow rice is my favorite. I can OD on that shit.
At Talde, we were doing a bunch of testing and working on a cured mackerel, which we cure and smoke and roll around in a half-pastrami spice. It was good. That's gonna go on the new menu.
During service, I taste the line — eat a little of what people are making. The little crunchy pieces that come off our Korean fried chicken taste like Doritos. I love 'em.
Around 11:30 p.m., I went to Pork Slope and we were busy, really busy. I went into the kitchen and had some of the pulled pork and a piece of ham, some tater tots. I just taste the stuff as it comes up, just casually. I've opened a few restaurants and it happens every time — you're up and down because you have to eat all the food to get it right. It's what I'm there for; it's my job.