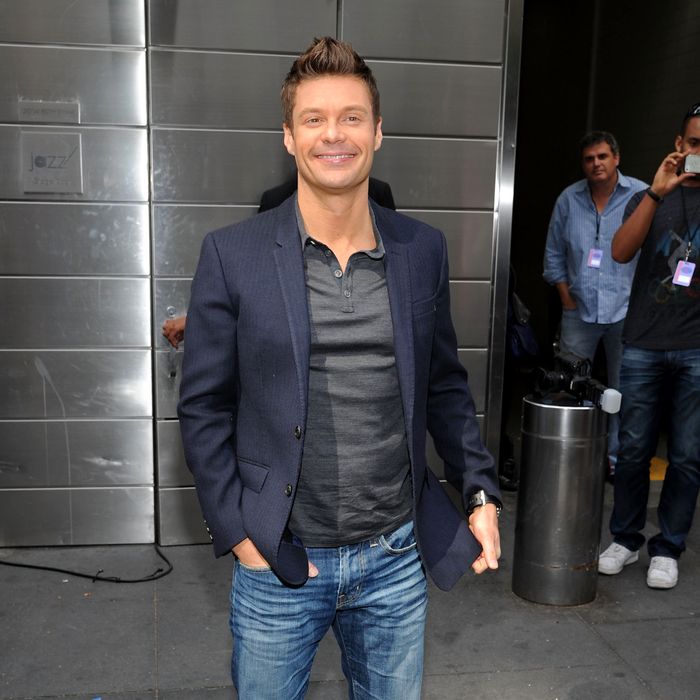 Remember: This is the man who brought us the Kardashian show.
Photo: Ilya S. Savenok/Getty Images
This week, the city was host to almost nightly events attended by celebrities of all sorts of fame. Ryan Seacrest had an intimate meal with the American Idol hosts at Crown, Paul McCartney ate at Sistina and Scott Rudin threw a party for Michael Chabon at the still-unopened Beatrice Inn. This and more straight ahead in our weekly roundup of celebrity dining.
Jimmy: Friday night, Catherine Keener, Leighton Meester, Dave Matthews, Penn Badgley, Adam Brody, and Jack McBrayer attended the after-party for the premiere of The Oranges at the bar at the James. [Page Six/NYP]
Crown: Ryan Seacrest held a small dinner for the American Idol hosts on Saturday. Mariah Carey, Keith Urban, Nicki Minaj, and Randy Jackson put any feuds (real or tabloid-imagined) to the side and toasted to the upcoming season. [Page Six/NYP]
Monkey Bar: Zac Efron was seen puffing away on an electric cigarette at a party for the new movie Arbitrage.* Richard Gere and Susan Sarandon also made it out to the midtown lounge. [Page Six/NYP]
Bobby Van's Steakhouse: Former mayor Rudy Giuliani was spotted at one of his favorite dinner spots. [Page Six/NYP]
Sistina: Sir Paul McCartney ate pasta with vegetables with longtime friend and pianist Diana Krall at the Upper East Side restaurant Friday night. The two are more than just dinner buddies: They collaborated on McCartney's Kisses on the Bottom album earlier this year. [NYDN]
Buddakan: Comedians and friends headed to Chelsea for the Saturday Night Live season-premiere after-party. The group included host Seth MacFarlane, musical guest Frank Ocean, as well as couples Mila Kunis and Ashton Kutcher, and Jason Sudeikis and Olivia Wilde. [NYDN]
1Oak: South Korean pop star Psy, who also made an SNL appearance, hit the town with new manager Scooter Braun after the show. They partied with Leonardo DiCaprio, Stacy Keibler, Gerard Butler, and Paris Hilton at the club where owner Richie Akiva got D.J.'s Jus Ske and Daniel Chetrit to blast Psy's hit "Gangnam Style." [Page Six/NYP]
The Windsor: Colin Egglesfield was seen flirting with a brunette at the West Village restaurant on Sunday night. Friends eventually pulled the Something Borrowed actor away, and he left alone. [NYDN]
Heathers: The East Village bar has become something of a celebrity hangout since it was put on the market last summer. Michael Stipe, Julia Stiles, and Scarlett Johansson were all there Monday night. [NYDN]
Waverly Inn: Speaking of Scarlett Johansson, the actress dined with Harvey Weinstein at the West Village restaurant this week. [Page Six/NYP]
Beatrice Inn: Scott Rudin hosted a party for Michael Chabon at Graydon Carter's unopened restaurant Tuesday night. The author's wife, Ayelet Waldman, and fellow writers Zadie Smith and Richard Price all showed up to celebrate Chabon and his latest work, Telegraph Avenue, which Rudin has already optioned for film. [Page Six/NYP]
SPiN: Blur frontman Damon Albarn showed off his ping-pong skills Tuesday. He even played club co-owners Jonathan Bricklin and Franck Raharinosy before getting in on the games at strangers' tables. [Page Six/NYP]
The 40/40 Club: Jay-Z, Béyoncé, President Obama, and about 100 others braved the rain for a $40,000-a-plate fund-raiser on Tuesday night. The music industry titans raised about $4 million in campaign money. [NYDN]
The Palm West: Kid Rock dined with a handful of friends at the midtown restaurant Tuesday. After dinner, he took to the piano for an impromptu fifteen-minute performance. [NYDN]
Catch: Paris Hilton took new beau River Viiperi (who is ten years her junior) to the celebrity hot spot on Tuesday. The two fed each other and held hands. [NYDN]
*This post has been corrected to show that Zac Efron isn't in Arbitrage, he was just smoking electric cigs at the party.