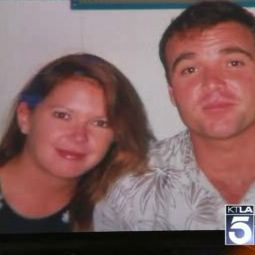 This went sour fast.
Photo: KTLA
The murder trial of California chef David Viens took an even more horrible turn, as the L.A. Times releases details from two interviews the defendant gave to police in 2011 in which he admits to cooking his dead wife. Last week, the jury learned that Viens once joked to his daughter that he'd utilize his kitchen skills to cook a hypothetical body. Now it turns out that knee-slapper may be more truth than fiction. Viens says that he and his wife, Dawn, were drinking and doing some coke — as couples do — on October 18, 2009, when he taped her mouth and bound her arms and legs while having an argument, in order to prevent her from "driving around wasted." When he came to the next morning, she was dead.
Following a fruitless six-month police search for the missing Dawn and later, David's failed suicide attempt off an 80-foot cliff, the Thyme Contemporary Cafe chef was recorded confessing to investigators that he placed Dawn's weighted-down corpse in a 55-gallon drum of boiling water, admitting he "just slowly cooked it and … ended up cooking her for four days." Oh, but he says he kept her skull, which is maybe the creepiest detail of all.
L.A. chef told police he slow-cooked his wife's body for days [LAT]
Earlier: Lomita's Killer Chef Once Joked About Cooking a Corpse