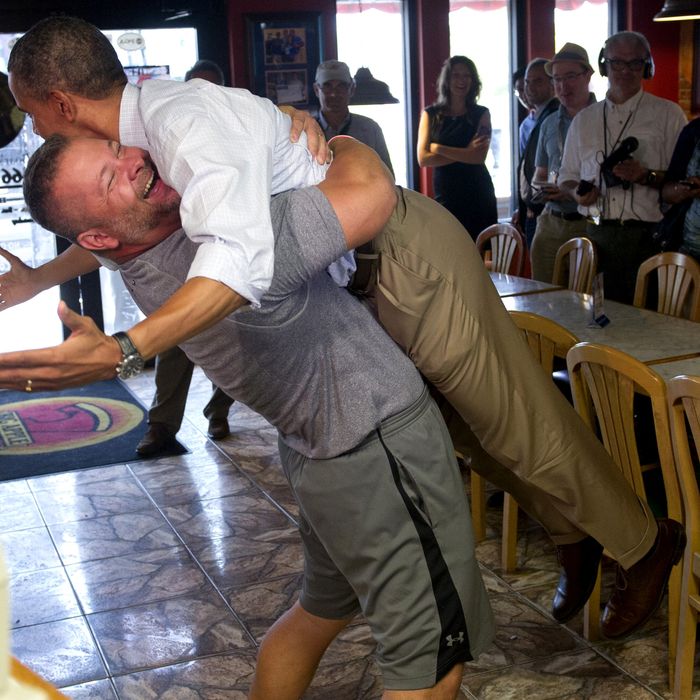 The photo still makes us smile.
Photo: SAUL LOEB/Getty Images
Yesterday, we showed you the enjoyable photo of Scott Van Duzer — owner of Big Apple Pizza and Pasta in Fort Pierce, Florida — bear-hugging the president. Well, now that the photo has made its rounds, the Yelp page for Big Apple is, of course, blowing up.
First, some of the bad ones. J.B. from Jensen Beach, Florida, has this to say: "will never eat here again - let the owner and obama go off somewhere alone and stuff themselves with his crappy pizza !" Meanwhile, Rich K. from Plano, Texas, suggests that conservatives "Treat it the same as the Dems treated Chick-fil-a." Blue C., from Beverly Hills, offers this missive: "support marxist president.. go down in flames"
Oh, but it's not all one-star stinkers for Big Apple. Carolyn S. from Mount Clemens, Michigan, can't wait to visit the next time she's in Florida because Van Duzer is "an example of what a true patriot is to this country." Terry F. from Mena, Arkansas, even comments on the food, sort of: "Best political pizza around. Tangy socialist sauce, no bitter thuggish after taste."
Big Apple Pizza [Yelp via the Daily Beast]
Earlier: Here Is a Delightful Photo of a Pizzeria Owner Hugging President Obama