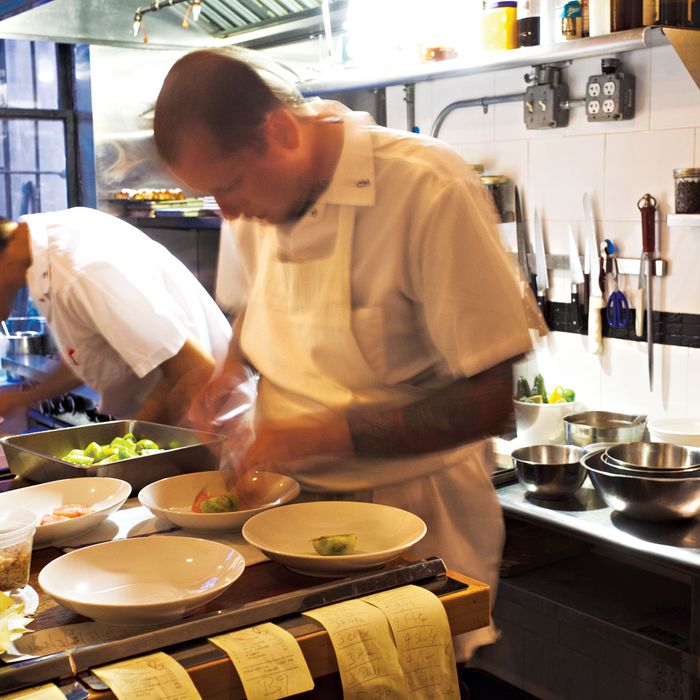 Extraordinary Battersby.
Photo: Victor Prado
Our own Adam Platt crossed the river this week with a "motley collection of big-city gastronomes in tow" to enjoy the "spontaneous, high-wire, seasonal cooking" at Battersby. Where did the city's other critics dine? Find out below.
Pete Wells skipped (mid)town to visit Dumbo's Governor, "a serious restaurant where fresh, approachable flavors are put through some contemporary flips and twists." The relentlessly innovative cuisine (like this "mock pasta": "celery root, shaved into ribbons wide as pappardelle and blanched just until they fold softly over themselves," with a sauce made from a "froth of cream and clothbound Vermont Cheddar," dusted with grated yolk of preserved eggs and grated lemon zest) and an "industrial aesthetic" tempered by "idiosyncratic warmth" lands two stars.
"Not every restaurant exists to reinvent the wheel," says Michael Kaminer in the Daily News. That's about as complimentary as it gets in his review of Siro's, which proffers an "inert house salad," "snoozeworthy striped bass," and "gloppy gazpacho that belong in a Whole Foods to-go container" at top-shelf Manhattan prices. The bright spots? The "retro" shrimp cocktail appetizer and affogato dessert.
Another Brooklyn traveler, Robert Sietsema lauds the appetizers and salads at Potlikker, the latest from "stunt pilot" Liza Queen (formerly of now-closed Queen's Hideaway). Beyond the salad of plums, breakfast radishes, and lemon cukes, "a nicely browned half-chicken with a sweet corn flan constitutes the single unalloyed triumph."
Manhattan trumps Brooklyn (sort of) inJay Cheses's review of two sandwich shops: downtown's Mile End Sandwich earns three stars, while Williamsburg's Lake Trout is awarded two. At Mile End, expect to travel the world, from the Montreal-style smoked-meat sandwich to the Middle Eastern fried eggplant, grilled haloumi, and sweet roasted peppers. In contrast, Lake Trout focuses "on achieving drunk-food verisimilitude," and Cheses recommends the fried-oyster make-your-own-sandwich. Don't skimp on the Mumbo sauce (a mix of hot sauce and duck sauce), he adds.
Meanwhile, The New Yorker checks out Il Buco Alimentari and Vineria, which can apparently do it all: dry goods, homemade gelato, espresso, "ethereal, cloud-like focaccia," house-made salumi, and "a strong selection of pastas." The only drawback is the dinner clientele, "whose collective temperament is discordant with the atmosphere of mealtime relaxation." I say!
"Brooklyn fine-dining has become as expensive as Manhattan dining," gripes Ryan Sutton. "Get used to it." But there's magic happening at Gwynnett St., the curmudgeonly critic concedes. Bean curd made without bean curd? Whiskey bread that lives up to its name? Lobster mushrooms that don't taste like lobster, and monkfish that does taste like lobster? Roast duck brined in peach pits and paired with peaches, faro, chanterelles, and pecans? "If this all seems like a cross between the chemistry experiment that is WD-50 crossed with the locavore temple that is Blue Hill, you're correct," Sutton confirms, "because Hilbert [the chef] worked for the former and sous-chef Owen Clark worked at both."
Tejal Rao dines on lamb burgers and "excellent" duck rillettes at Jezebel, where even the cocktails (e.g. Aaron's Staff, made with almond milk) are kosher. The split-level restaurant seems to also have split personalities: the downstairs bordello lounge gives way to the white seats, exposed-beam ceilings, and chandeliers of the upstairs main dining room. A portairt of Mark Zuckerberg's face attached to Ben Franklin's body typifies the art. The menu is two-faced: "A side bowl of tender veal meatballs ($11) swimming in a sharp tomato sauce is fine, but it's a strange thing to see in the same dining room as a composed plate of glazed duck with a confit leg and roasted fennel ($42)." Rao concludes that "while service and food are alright, neither seem at the level to justify these kinds of prices."

When the best part about a sushi-French fusion restaurant is a great sommelier, you know you're in trouble. Steve Cuozzo compliments the knowledgable, cheerful and understanding Juilen Moreno, but little else at Mihoko's 21 Grams. "For every successful dish," Cuzzo writes, "there was a correspondingly awful one." Add to that bad service, misleading answers regarding the identity of the chef, and exboritant prices, and you get dining that's fied when it's meant to be fine. One-half of one star.