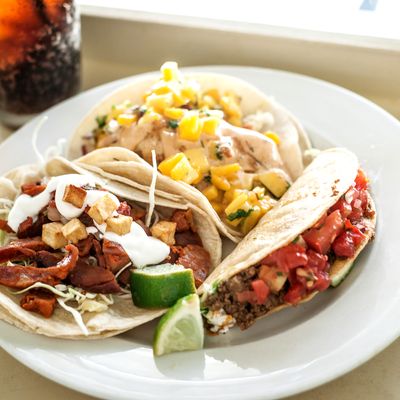 Calexico's tacos.
Photo: Noah Fecks
The Times gets a big preview of all the food that will be sold at the new Barclays Center, in the form of an eating tour through its various stations, carts, and stalls with none other than big-time developer Bruce Ratner, who, for the record, find's Calexico's tacos hard to manage: "It's difficult in terms of the methodology of eating," he says, perplexedly handling the tortillas. The whole thing and its accompanying slideshow is worth a close look, if not just for the anachronistic spectacle, reminiscent of some early-twentieth-century World's Fair Pavilion kind of thing. For your convenience, here's the lineup of what's cooking on Atlantic Avenue.
The oldies:
Hot dogs and kraut from Nathan's Famous
Pies from L&B; Spumoni Gardens
Of course, Junior's Cheesecake
The goodies:
Brisket bánh mì from Fatty 'Cue
Sausage sandwiches from Saul Bolton's Brooklyn Bangers
Organic ice cream — made in Brooklyn — from Blue Marble
Floats and sodas from Brooklyn Farmacy
Pressed sandwiches from Habana
Wings from Buffalo Boss
Some briny McClure's Pickles
Nets-logo decorated sweets from Brooklyn Cupcake
Chips and dip from the Brooklyn Salsa Company
Sweets from Tumbador
While we're on the subject, isn't it about time for some plucky Brooklyn entrepreneur to come through with an artisanal version of Alka-Seltzer?
If Only the Nets Live Up to the Arena Food [New York Times]