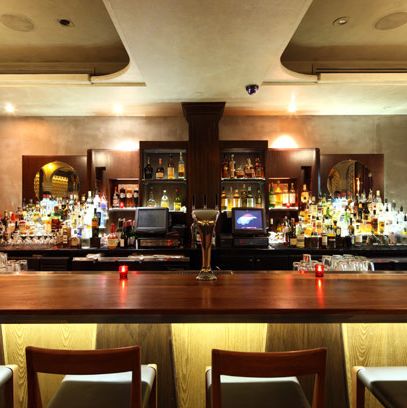 The bar at Ginny's Supper Club.
Photo: Melissa Hom
A certain media-savvy Top Chef Master may have recently shone a spotlight on the rapidly developing Harlem, but with new bars steadily popping up under the radar, it's best to keep an eye on the area. The newest spots take into account the neighborhood's changing demographic while nodding to its rich culture, if not its actual physical history (See: the old church pews in Harlem Public). So, next time you head north of 125th Street, discover Harlem the best way we know how: through its watering holes. Here's a dozen places to get you started.
Ginny's Supper Club
It may be downstairs from Red Rooster, but this swank, retro supper club has taken on an identity all its own. The stage is a busy little place: You'll find Latin and jazz nights, and, recently, Roberta Flack. Meanwhile, both food and drink are given equal focus: the former a mixture of soul-food staples alongside dishes with Asian and French influences, and the latter sophisticated sippers like the ginger and Japanese whiskey Harlem Mule, the frothy the Ramos Gin Fizz,  and the pink but not for lightweights St. Claire, fortified with house-made coconut vodka.
 
Judi's
Judi's nearly feels like an extension of some ideal southern grandma's back porch, airlifted into Harlem. It's not so much the décor — white leather couches; bright, clean walls; antique bar stools — as it is the rum punch and the eased pace; here, the jukebox favorite "Sitting on the Dock of the Bay" is practically the theme song.
 
Harlem Public
This one's recently opened, and the hours are still irregular, so be sure to call before you make the trip out to 149th street. But when you do, you'll find locally sourced décor, using refurbished seating pews from neighborhood fixture Mount Moriah, as well as locally sourced spirits from establishments like Finger Lakes Distilling. With sixteen rotating craft beers on tap, fresh popcorn, and big screen TVs, this one is shaping up to be one for sports-lovers. But we'll have to give it at least a month before we make that call. 
 
Moca
From the Booty Call Martini to the electrified Motown soundtrack, this central Harlem watering hole has seriously funky character. The bottled beer and pedestrian wine list are forgotten in a rainbow of pineapple-infused, locally labeled drinks — the Harlem Shuffle, the Harlem Iced Tea (the Moca take on the Long Island), and that booty drink. Belly up to the copper-top bar and order from a tantalizing comfort-food menu of sliders, jerk chicken, and shrimp linguine. And if you've got some moves, on weekends, you can "get freaky with Harlem's best eye candy" on an impromptu dance floor. 
 
Cove Lounge
Urban scenesters and Bobby Flay acolytes will flock to the upscale lounge, which was featured on Flay's Food Network program 3 Days to Open, where he swoops into troubled establishments, you guessed it, three days before they open. Luckily, Flay helped them get their act together, suggesting signature cocktails and refining the menu of southern comfort-food small plates. If this one's the choice for your den of iniquity, dress appropriately. No sneaks allowed.
  
The Duck
A honky-tonk saloon in East Harlem, better known for its salsa and merengue scene, may seem out of place, but this two-room drinking dive seems to be doing just fine, in no small part because of Johnny Cash tunes, baskets of peanuts, and cleavage-baring bartenders who pour $6.50 pitchers of Pabst and stiff Wild Turkey shots. For those looking for a new uptown dive.
 
The Harlem Tavern
The diverse crowd in this massive former-auto-body shop could very well make this the new Cheers of the multi-culti uptown set. Cocktails with names like Watermelon Crush and Ciroc Celebration skew sorority chic, but beer nerds will feel at home with 20 beers on tap and 60 more by the bottle. With indoor and outdoor space and a full kitchen on hand that serves up lamb burgers and planked salmon, it's likely to be many a local's one-stop shop.
 
Bier International
Harlem's first beer garden with eighteen European drafts (heavy on the Belgians) and more than a dozen bottles, ranging from the area's own Sugar Hill Golden Ale to Kenya's Tusker. The interior is less Bavarian beer hall than modernist cafeteria, down to the exposed vent, but gastropub grub and welcoming bartenders make up for it.
 
Harlem Lanes
The first neighborhood bowling alley since the eighties, Harlem Lanes appeals to rollers and non-rollers alike. If you're more into watching than playing, head up on the fourth floor, where you can settle in to some black leather couches and wet your whistle with Hennessy, Absolut, or one of the standard beers on tap (Coors Light, Heineken, Sam Adams) while catching an NBA game on one of four flat-screens.
 
Corner Social
Every corner of the handsome bistro contains another must-have New York nightlife prop: Underfoot are bare wood floors, and ceilings frame exposed brick walls lit by hanging globes while old-style sconces frame an elegant faux-fireplace. The place attracts locals with craft beers on tap, a comfort food menu of refashioned fast-food standards, and a full liquor shelf. 
 
67 Orange Street
Cozy wood paneling and a speakeasy vibe is the reason to seek out this uptown drinkery, inspired by the spot's 1840 resident Almack's Dance Hall, one of the first black-owned bars in the city. But the menu is the reason you stay. Trailblazing black female mixologist Kali Irwin developed the extensive drinks menu, organized by spirit and utilizing ingredients like Cynar artichoke aperitif, rosemary syrup, and pisco, while the food offerings range from small bites, a raw bar, and small plates, most of which cost less than the price of a drink.
 
Shrine
Nestled in the former headquarters of Harlem's largest black charity group, Shrine is a deceptively low-profile live-music spot. The ground floor of the onetime Black United Fund Plaza community center hosts a full bar, a tables-for-two lineup, and a small back stage, its age-worn space colored by African icons and a serious vinyl fetish. A back kitchen offers Mediterranean platters, chicken kebabs, and Jerusalem Toast (toast with olive paste, feta cheese, tomato, and zaatar).